November 3rd, 4th & 5th, 2020
For its 2020 edition, the annual OVHcloud event is evolving to meet the challenges of the accelerating digital transformation, by becoming the OVHcloud Ecosystem Experience, a fully online event. Connect with us on November 3rd, 4th & 5th, 2020 to interact with technological and industrial leaders and discover how OVHcloud is changing the game with our ecosystem to fuel businesses with ethics and sustainable solutions.
If you share our values and engagement, then interact with us live at #EcosystemExperience #WeAreChangemakers! Join us online to learn with the experts, our technological and business partners, customers and innovative start-ups through exclusive workshops, demonstrations and conferences. Discover the OVHcloud product worlds as well as our partners' solutions.
The OVHcloud Ecosystem Experience is also an opportunity to learn more about members of the Open Trusted Cloud program, partners from the OVHcloud Partner Program, vendors from the OVHcloud Marketplace, and startups that are accompanied by the OVHcloud Startup Program… and how we grow together! There will also be sessions called Career Talks, where you can learn more about the different job functions at some of our sponsors' companies as well as at OVHcloud
On the agenda
We'll host three keynotes and numerous sessions and testimonials around solutions and services that respect freedom and fundamental rights (in particular the right to data protection). It's the occasion to discover and exchange around the use cases of an ecosystem federated around the same values and commitments, and operating on a trusted, alternative and competitive cloud. You will find the full programme at OVHcloud Ecosystem Experience Agenda.
If you want build a personalized program and fully synchronize your agenda, just subscribe online to the Ecosystem Experience to receive access to the event platform. This will give you additional functionalities and allow you to interact and network with other attendees, schedule meetings with our sponsors, download some material regarding the sessions …
Event highlights
Keynotes
Keynote #1 on November 3rd at 10:00 AM (CET) will focus on data sovereignty to ensure your independence and competitiveness; the ecological challenges of the cloud and the digitization of uses; European collaboration to streamline massive investments in a trusted cloud.
Speakers include:
Michel Paulin, CEO, OVHcloud 
Bruno Le Maire, French Minister of Economy, Finance and Recovery
Carla Arend, Senior Program Director: Lead Analyst, Cloud in Europe, IDC  
François Sterin, CIO, OVHcloud 
François Cuny, Deputy CEO for Innovation, INRIA 
Falk Weinreich, GM Central Europe, OVHcloud 
Max Ahrens, CTO, T-Systems 
Guillaume Poupard, General Director, ANSSI 
Keynote #2 on November 4th at 10:00 AM (CET) will look at the power of ecosystem collaboration; support programs for success together; a short-term technological roadmap built with our partners and customers.
Speakers include:
Pat Gelsinger, CEO, VMware 
Lauren Nelson, VP, Research Director Infrastructure & Operations, Forrester 
Alain Fiocco, CTO, OVHcloud 
Luc d'Urso, CEO, Atempo 
Ludivine Boutry, CDMO, OVHcloud 
Julien Chaumond, CTO, Hugging Face 
Keynote #3 on November 5th at 10:00 AM (CET) will be given by Octave Klaba, founder of OVHcloud. Octave will share his strategic vision on the evolution of the cloud; The commitment of an entrepreneur to anticipate changes in society.
Star Sessions
And don't miss our star sessions with the best experts of our ecosystem:
The sky is not the limit: SERCO storage and distribution of EC/ESA Copernicus Satellite images

Energy matters in the Cloud: discover the partnership between INRIA and OVHcloud

Global leader in AI-based translation, SYSTRAN, chose OVHcloud

GAIA-X: shaping Europe's data spaces through a federated multi-Cloud infrastructure

Being part of the Community – why Open Source matters

Why did the French Ministry of Territories' Cohesion choose Sopra Steria and OVHcloud?

We hope that you will be many to connect for the live keynotes as well as for the numerous sessions proposed by our ecosystem!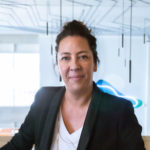 Chief Digital Marketing Officer, responsible for elevating the brand and developing digital assets to promote the company's solutions. Prior to OVHcloud, Ludivine worked for fifteen years in global marketing agencies Publicis & Havas Group, as well as 3 years in the international retail sector where she held the role of Chief Customer Activation Officer.