Our annual event ended yesterday, but the Ecosystem Experience is not over…
Let's keep the momentum going to create even more trusted solutions together! You can continue to share your sovereign products or solutions with the hashtag #WeAreChangemakers. Together, we can consolidate this strong ecosystem, united by a common foundation of European values.
For all of us, 2020 was a year of unprecedented challenges. OVHcloud has chosen to unite its ecosystem by transforming its historic physical event, the OVHcloud Summit, into a 3-day virtual event that included prestigious guests and international testimonials. Many contributors from different countries accepted this huge challenge with us. And despite the increasingly complicated conditions due to the evolving healthcare crisis, they demonstrated an unwavering commitment based on our shared values and the ideas we all wanted to defend around freedom and digital sovereignty.
If you were unable to attend the keynotes or the many sessions, led jointly by our experts and those from our partner or customer ecosystem, the 3-day replay is now available.

We hope you will enjoy this event as much as we enjoyed organising it!

We would like to extend our heartfelt thanks to all of our sponsors, and to the ecosystem of partners who contributed to the event: Appcraft, Vodalys, Mediawen, Uzik.

Sponsors Platinum
Sponsors Gold
Sponsors Silver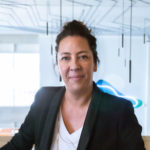 Chief Digital Marketing Officer, responsible for elevating the brand and developing digital assets to promote the company's solutions. Prior to OVHcloud, Ludivine worked for fifteen years in global marketing agencies Publicis & Havas Group, as well as 3 years in the international retail sector where she held the role of Chief Customer Activation Officer.