At OVHcloud, we believe that every entrepreneur needs to retain their freedom of choice. We believe that at no time should companies' fundamental freedoms, and above all the sovereignty of their data, be compromised. This is the strong commitment we made with our partners and customers during the OVHcloud Ecosystem Experience, held in early November 2020. We co-built with them this first virtual event, which was an opportunity to unite our ecosystem through a number of testimonies. Together, we affirmed the need for an ecosystem of companies that share the same values of trust and collaboration while defending confidentiality and reversibility for user data.
Our various programs are the concrete embodiment of this conviction: grow and succeed together, while ensuring everyone remains in control of their data, innovates, and thrives in freedom.
Our partner program, deployed internationally, has been designed to support the digital transformation of companies and organizations. This year, against a backdrop of accelerating digital transformation due to the global pandemic, our collaboration with this powerful network has become even more structured.
These partners are very complementary to our business, as they are high added value resellers or service providers that wish to support their customers as they migrate to OVHcloud infrastructures. They provide advice, support expertise, or add their own technological building block. To support our partners in achieving their missions, we provide training, sales support and technical support for our solutions. In recent months, 300 partners have been trained through more than 50 sessions delivered by our experts.

In accordance with our commitments, OVHcloud's Partner Program is non-exclusive. Our partners retain their freedom and can continue to collaborate with other cloud players on the market. But the offers or services they provide to our own customers through our partner portal must be based on our trusted cloud. We need to ensure that our customers, who would benefit from support from a partner, have their infrastructure compliant with their local regulations, and that their data remains sovereign.
For partners, joining this program represents a competitive advantage, as their customers are becoming increasingly aware of how to use a cloud that respects freedom and citizens' rights. We also offer our partners localized support, specific to their geographical area, through our dedicated teams. They can also work within the program, which includes 3 different levels, and as many additional benefits for each. Following their growth, they have the opportunity to move from Standard to Advanced partners (one-third of our partners currently), to Strategic partners (which we will be opening very soon, for those who support large companies). This powerful network of partners contributes daily to strengthening our global ecosystem and spreading our shared values.
The startup support program was created to encourage the start-up of innovative projects. By supporting them from the earliest stages of their development, we help reveal their most disruptive aspects. This program is international in order to meet the high demand in all the countries where we are present. We support nearly 2,000 startups in Europe and the Asia-Pacific region. This year, the program has been strengthened by opening up to scale-ups and diversifying its support offer. They can get financial support in the form of credits for our cloud infrastructure, technological advice to support their growth, and mentoring to support their business development. We want to act as a boost for these startups and scaleups by contributing to the development of their network and their reputation. In return, we benefit from their feedback, since they are often the first users of our new products and participate in our R&D cycle.
Our program stands out in the market for its lack of exclusivity, and we do not use technological locking (usually imposed for this type of support). When exiting the program, we do not force startups or scaleups to use our cloud infrastructures, nor do we take part in their capital. This unrestricted model guarantees them high reversibility and technological interoperability but by choosing to continue operating on our infrastructures means keeping control of their data.
This program supporting innovation is fundamental to the development of ecosystems of local entrepreneurs who share our values, in each of the countries in which we operate.
In 2020, to address the confinement situation in multiple countries, we temporarily deployed an initiative called Open Solidarity. Many of our partners and customers providing remote working, education and healthcare solutions have joined this solidarity effort to help companies digitalize their data. With their trusted cloud-based solutions, they were able to support the digital transformation of companies concerned with protecting the security and confidentiality of their data while safeguarding their competitiveness.
Continuing this operation, we have developed the Open Trusted Cloud program to meet a real customer need: be able to easily identify solutions based on a trusted, open and interoperable cloud, The "Open Trusted Cloud" label acts as a true differentiator in their market, guaranteeing their commitment to respecting freedom and citizens' rights.
Thanks to a number of contributors, we are continuing to develop this portfolio of labelled solutions, which are able to provide the best guarantees in terms of data protection. And we encourage all companies that share our commitments to join the Open Trusted Cloud program to spread the ethical cloud label around the world and use it as a lever for growth.
Recently launched and only available in France for the moment, the OVHcloud Marketplace was created to support the growth of SaaS and PaaS publishers hosted on our infrastructures. Today, it encompasses more than 250 solutions based on our trusted cloud. They are completely complementary to our solutions, and meet all companies' needs for turn-key solutions such as collaborative suites, emailing, website creation, company social networks, cyber security solutions…
Beyond a catalogue of digital solutions, a community of sellers, united by the same commitments, is taking shape. A collaborative platform has just been deployed to unite the sales community and create synergies by facilitating exchanges, whether it is the sales community between itself to discuss technical convergence, common commercial interests, or even alliance on certain calls for tenders or our experts to support our new infrastructure solutions, features and services. In the context of the current health crisis, some of them have also spontaneously offered their preferential tariff solutions in solidarity to support hard-hit professionals and especially traders (you can find them in the solidarity selection section) .
As with all our other programs, we have adopted an alternative approach to the standard marketplaces on the market. No commercial exclusivity is imposed on our sellers, and we do not charge commission. Only a 3% transaction fee is charged to participate in the management costs inherent to the platform. Each of our sellers is also certified, so that all OVHcloud final customers in the OVHcloud Marketplace can benefit from secure transactions.
The OVHcloud Marketplace will be progressively deployed globally in 2021, to bring our visibility as a European cloud leader and global presence to our entire ecosystem. Pre-registration is open for all interested sellers outside of France.
To summarize
Like our ecosystem, our 4 programs are rich and diverse. Their growth is supported by market awareness for a more responsible cloud and by the commitment of each company that adheres to these programs. These companies want to drive change and make strong commitments to a cloud that is more ethical and respectful of citizens' rights, particularly with regard to data protection. Our OVHcloud Ecosystem Experience, through many testimonials that you can find here, has proven that this ecosystem can grow in collaboration and trust. We are continuing our common efforts towards an ecosystem open to responsible innovation and respect for users, and we will continue to develop our programs to serve this belief.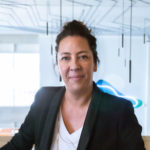 Chief Digital Marketing Officer, responsible for elevating the brand and developing digital assets to promote the company's solutions. Prior to OVHcloud, Ludivine worked for fifteen years in global marketing agencies Publicis & Havas Group, as well as 3 years in the international retail sector where she held the role of Chief Customer Activation Officer.