A tale of migration to the cloud
The benefits for clients to shift their applications and IT landscapes to the cloud are already well understood. It usually revolves around expected performance gains, scalability advantages of cloud-native products, boosted productivity, security and greatly reduced maintenance efforts for all assets leveraging cloud platform services. In summary the ultimate goal is shifting from a CAPEX model to OPEX for more IT infrastructure and technology agility and lowered system level maintenance.
But on the other hand cloud transformation projects require large investments, have extensive runtimes, and heavily bind both client internal teams and resources as well as advisors and migration teams coming from external consulting.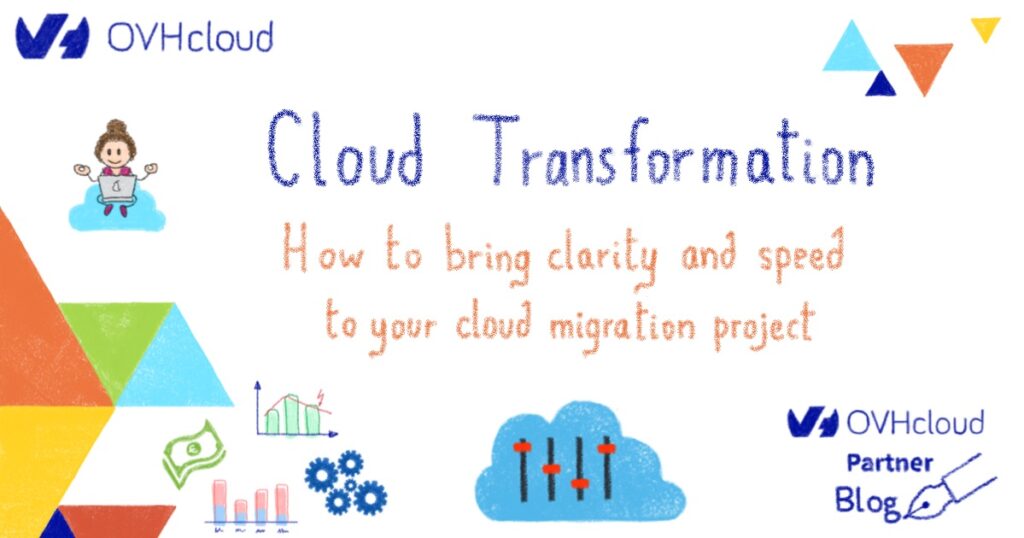 Because of the complexity, size and impact of a typical cloud transformation project, decision makers either in industry and or public sector are very careful about deciding for a cost effective cloud platform that meet their needs.
In order to build up that confidence, decision makers need to have a clear vision and insight on the market and approach migrating its estate over to their cloud platform of choice.
To succeed, cloud transformation projects need a clear vision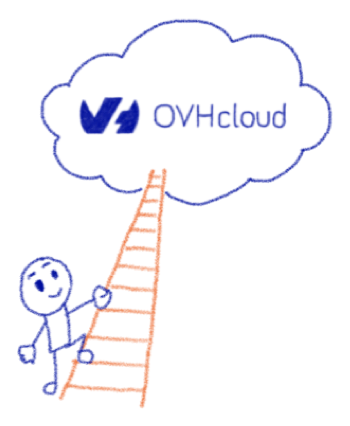 When an organization initiates a migration of their on-premise infrastructure to the cloud, the need to modernize their applications (or at least a subset of the applications) is generally clear. However, most organizations have a hard time picturing the future state of their IT infrastructure, once migrated to the cloud.
And yet, migrating an application is much smoother when you already have a precise idea of what the final infrastructure will look like (for instance: which cloud services will be included, what will be the overall costs, etc.).
Having this depth of knowledge is essential from a project management perspective. In order to accelerate the migration process, and to minimize risk, organizations need to share a clear vision of the end result.
Moving to the cloud is also a time of uncertainty, especially for organizations that used to run all their applications and workloads on-premises. Thus, the success of your project will largely depend on the ability of managers to pave the way. "This is where we are at the moment". "This is our destination". "And here are different ways to get there". Providing visibility on what the future infrastructure will look like is key to reduce fear and empower the teams to achieve the transformation process.
A clear vision also comes with precise goals. What is the business case behind this application? There are many reasons to move to the cloud. Some organizations want to modernize their infrastructure from the ground up and are ready to spend several years on it. Others aim to stop running their hardware environment in the short term. Finally, for others, cost savings will be the decisive criterion. The optimal cloud architecture will largely depend on the organization's goals and priorities.
The hard time of comparing cloud offerings
Ideally, when planning the migration of an application, an organization should proceed as follows:
Define the goals of the migration
Compare different migration alternatives
Model the exact cloud architecture that is needed for this application
In practice, however, this can quickly become a labor intensive task, and one reason for that is the difficulty to compare the options available on the market. It's no understatement that there is a wide range of cloud offerings, and that companies are spoilt for choice. But the main difficulty comes from the fact that each supplier has its own way of presenting its services and its pricing model.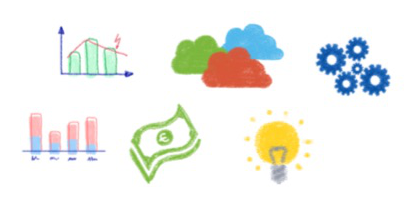 In the end, organizations miss a clear comparison table to efficiently investigate the pros and cons of each option, and make their migration decisions with speed and confidence.
Cloud Insider: a knowledge base for multi-cloud market insights
To empower organizations on their transformation journey, Txture developed Cloud Insider, a solution that provides an unparalleled overview of the fast changing cloud market, and simplifies cloud services comparison and price forecasting.
Cloud Insider knowledge base includes products from the vast majority of cloud vendors, and maintains up-to-date information about hundreds of products, and hundreds of thousands of available product variants.
The goal of Cloud Insider is to provide cloud professionals with a comprehensive and provider-neutral overview of the cloud market. Leveraging Cloud Insider, you can quickly compare similar products based on several criteria (features, certifications, location, pricing model, etc.) and make your migration decisions much faster.
How Cloud Insider works
In the following section, we'll see how Cloud Insider can be used to quickly model cloud architecture alternatives. In this example, we'll assume that your organization wants to migrate one of its workloads to OVHCloud. Your workload consists of a server, a database and a storage solution.
1 – Modelling a cloud architecture
Browsing the knowledge base, you will be able to quickly find a server solution that fits your requirements. To narrow down your research, you can filter for specific results. For instance, you want the server to be located in the UK, and you also want the solution to be GDPR compliant.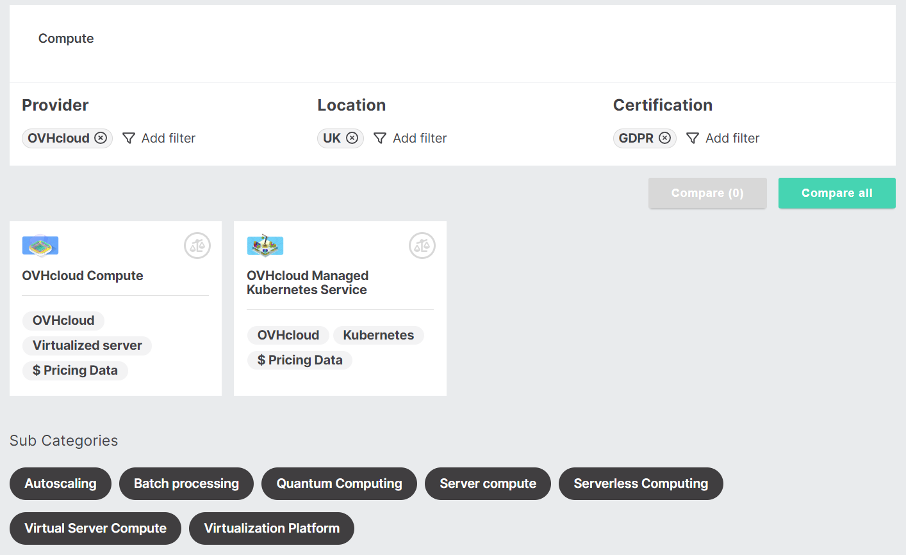 You are presented with two different products of the OVHcloud catalog that fit the requirements. When you click on one product, you will see a list of product variants. You can again narrow down the list with additional filters, such as number of CPUs, operating system, instance type, storage type, etc.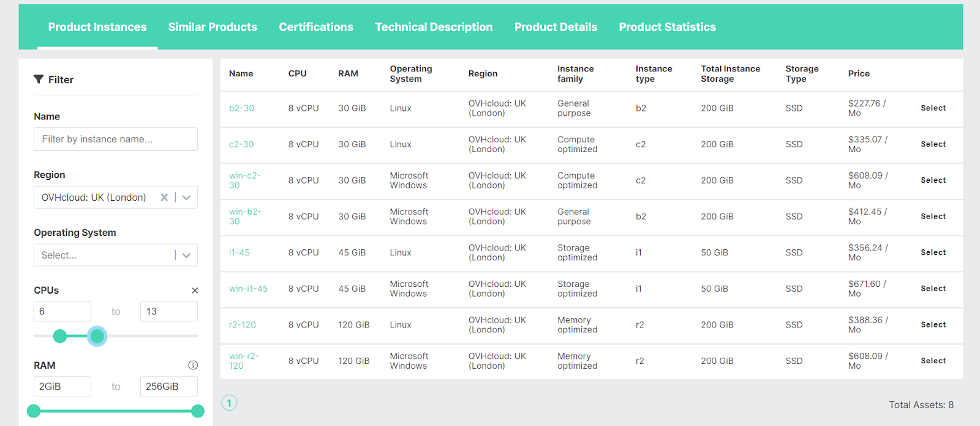 You can proceed similarly to find a managed database and a storage solution. Once you have selected all the components you need, Cloud Insider generates an overview of the cloud architecture you just created. The platform also provides you with a bill of materials, so you get a clear idea of the overall costs of the architecture.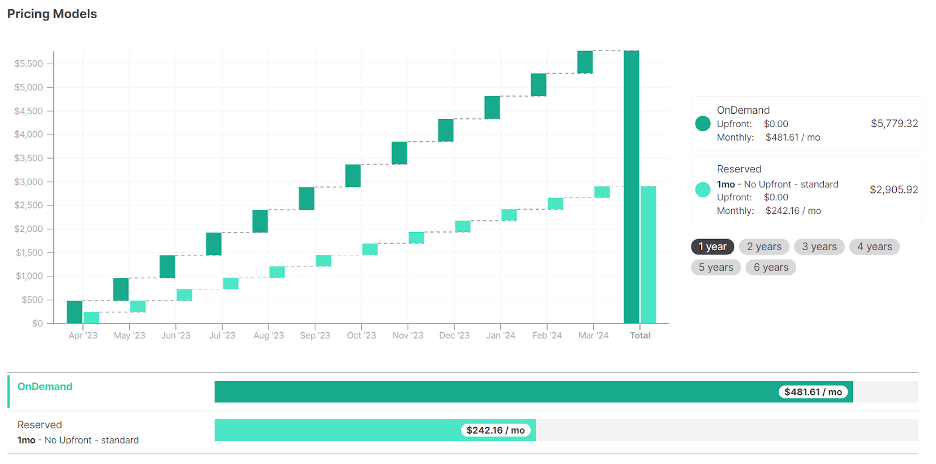 For more and more organizations, sustainability has become a key criteria when choosing a cloud infrastructure. In the overview provided by Cloud Insider, you can also find insights into the carbon footprint of your current scenario. The platform automatically calculates the monthly energy consumption and CO2 emissions of your target architecture, as you can see below: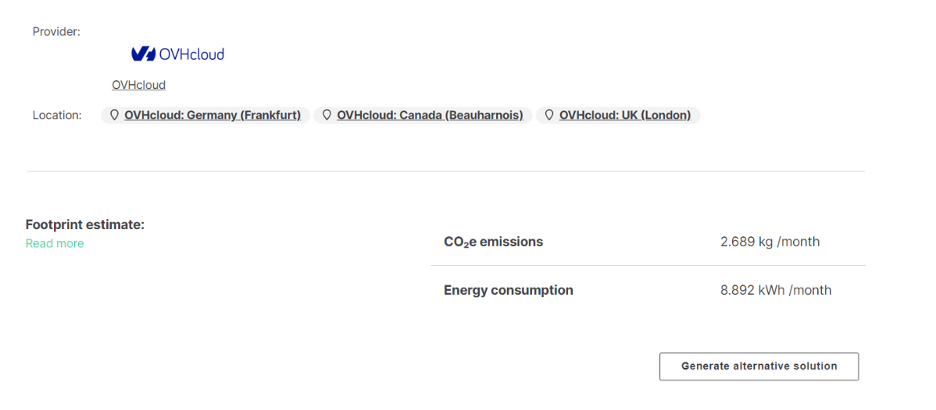 2 – Comparing migration scenarios
Before making your migration decision, you probably want to consider a few alternatives. This is where the Cloud Insider platform can accelerate the comparison of different cloud architecture options. Once you created a first cloud architecture, you can build alternatives and test different product variants, locations, storage types, etc.
Then, the platform will offer you a side-by side comparison. You will be able to quickly compare different cloud architectures based on pricing model, features, but also certifications and carbon footprint. In the end, you save time, and you can make your migration decisions based on up-to-date information.
In this example, we compare different cloud architectures on OVHcloud, but you can also use it to compare architectures of different cloud vendors.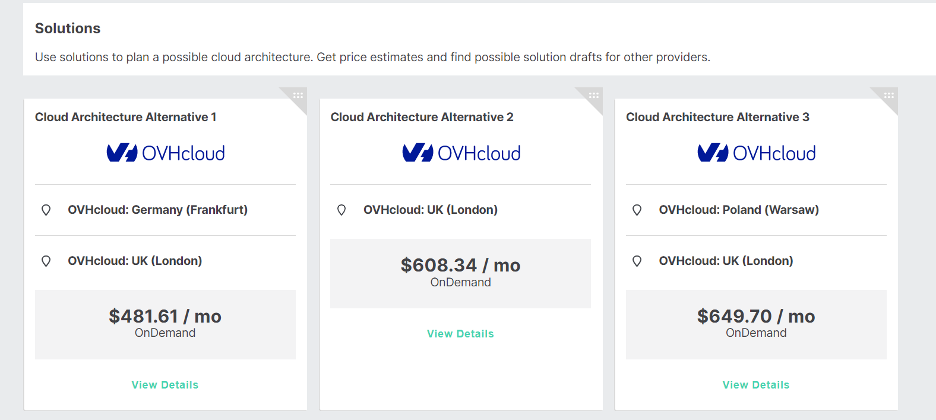 The Bottom Line
We all know oftentimes it is hard to keep track of cloud services offered today and those added every month. How to compare services across providers, in which data center locations are services available, and what price tags do they have attached? Still as a cloud professional it is key to be confident with your decisions in order to pick the right solution from a pool of different options out there.
With Cloud Insider, browse cloud services by provider, location, certifications, and underlying technology. Rely on detailed analysis and up-to-date data of cloud products from various vendors to select the right services based on your requirements.
View cloud service product instances, certification details and compare to similar products of other providers. Easily filter instances by location, CPU, RAM, OS and compare on-demand vs. reserved instance prices.
With Cloud Insider cloud professionals finally can take out the uncertainty exploring the cloud market and can make educated decisions.
To learn more go to: https://cloudinsider.com