We have announced the General Availability of Metal Instances and it's a major milestone for OVHcloud. Considering that we have shipped more than 1 million physical servers since our inception in 1999 and that our market recognition continues to get stronger (see OVHcloud positioned in the "Major Players" Category in IDC MarketScape: Worldwide Public Cloud Infrastructure as a Service 2022 Vendor Assessment), our positioning is unique. The release of Metal Instances should be considered as a strong commitment to continuously delivering cloud services that match the way our customers' organizations consume IT services.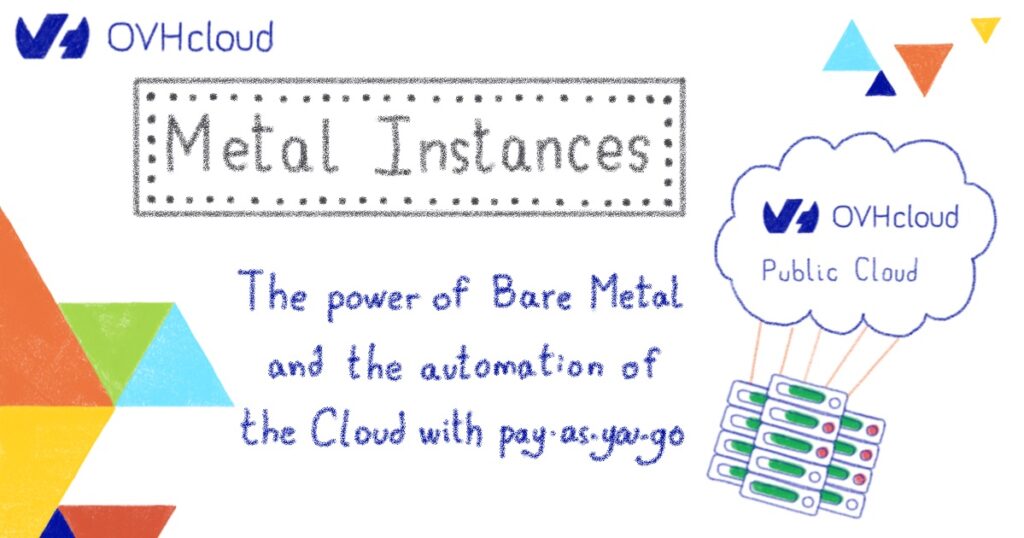 This blog post will drill down on why Metal Instances play a crucial role in the enrichment of our compute portfolio, outline the key benefits that this new service brings to the market, and explain how organizations use such a services.
Metal Instances contribute to our IaaS and compute portfolio enrichment, offering more choices to customers
If you are already using our Public Cloud, you are likely aware that you can choose from a broad catalog of instances ranging from General Purpose, CPU-optimized, RAM-optimized, GPU, or I/O intensive instances to get the resources that you need on-demand and consume on a pay-as-you-go model. You might even be automating the deployment of these resources leveraging Infrastructure as Code tools such as Terraform or Ansible which are natively supported as our Public Cloud is built upon standard Openstack.
When looking at the bigger picture, the choice of instances is related to application workloads; not all apps are created equal and some workloads might require dedicated hardware resources for their execution, whether it's for control, isolation, or performance. This is where Metal Instances come in. You can get a single tenant node with dedicated hardware resources and combine it with the on-demand availability and quick deployment times based on automation.
For a quick view of how Metal Instances fit into our overall compute portfolio, refer to the table below.
| | | | |
| --- | --- | --- | --- |
| | Public Cloud Instances | Metal instances (in Public Cloud) | Dedicated server |
| Single tenant | No | Yes | Yes |
| Hourly billing | Yes | Yes | No |
| OVHcloud API | Yes | Yes | Yes |
| Native support of infra as code | Yes through Openstack API | Yes through Openstack API | Customer must build the capability |
| Integration with Public Cloud ecosystem | Yes | Yes | Through vRack |
Metal Instances bring together the best of Bare Metal and Public Cloud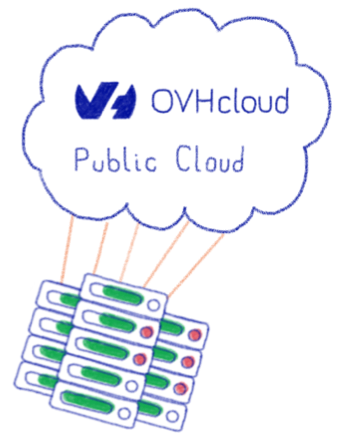 Now, let's review in more detail what the benefits are for you.
Single-tenant node, as a Service
There isn't a virtualization layer installed on Metal Instances. You get root access, meaning that you have access to the highest privilege mode and can install any low-level software. All hardware resources available on the Metal Instances are dedicated to your usage and you control resource allocation.
Integrated into the entire Public Cloud ecosystem
A simple way to look at Metal Instances is to view them as an additional building block for your app. As with any Public Cloud service, Metal Instances are consumed within a Public Cloud project where you can consume storage, network, databases, orchestration, and even off-the-shelf AI services.
Available and scalable on demand
Getting what you need, when you need it is one of the key promises of our Public Cloud. Metal Instances can be deployed in a few minutes within your project and can be horizontally scaled up and down to match your workloads over time.
Billed hourly and/or monthly
The benefits of pay-as-you-go have already been largely advertised, but are worth covering again in the context of Metal Instances. You pay for the hours used if you turn to hourly billing, which offers great flexibility for temporary workloads. On the other hand, if your workloads are permanent, monthly billing is another option.
Natively compatible with Infra-as-code tools for full deployment automation
Infrastructure as code provides a great productivity advantage, as it saves your operations team from performing repetitive tasks when it comes to setup. Popular tools such as Terraform or Ansible are natively supported which makes things easier for standardized infrastructure deployment.
Key takeaways from our beta customers
About one hundred customers have been beta and alpha testing Metal Instances over the past months and feedback about their use cases provides insight into how you might use this new service.
Automation and industrialization
Several beta customers had the need to be able to install KVM and have access to the underlying tooling while being able to industrialize deployment as a best practice. If you're already using an Infra as Code tool, Metal Instances can be a great time saver and there are a number of use cases around development or CI/CD which are worth considering
"We need to be able to add capacity at peak times automatically through an API. This does not work with regular dedicated servers that need 1-2 days of setup. We need new capacity in minutes".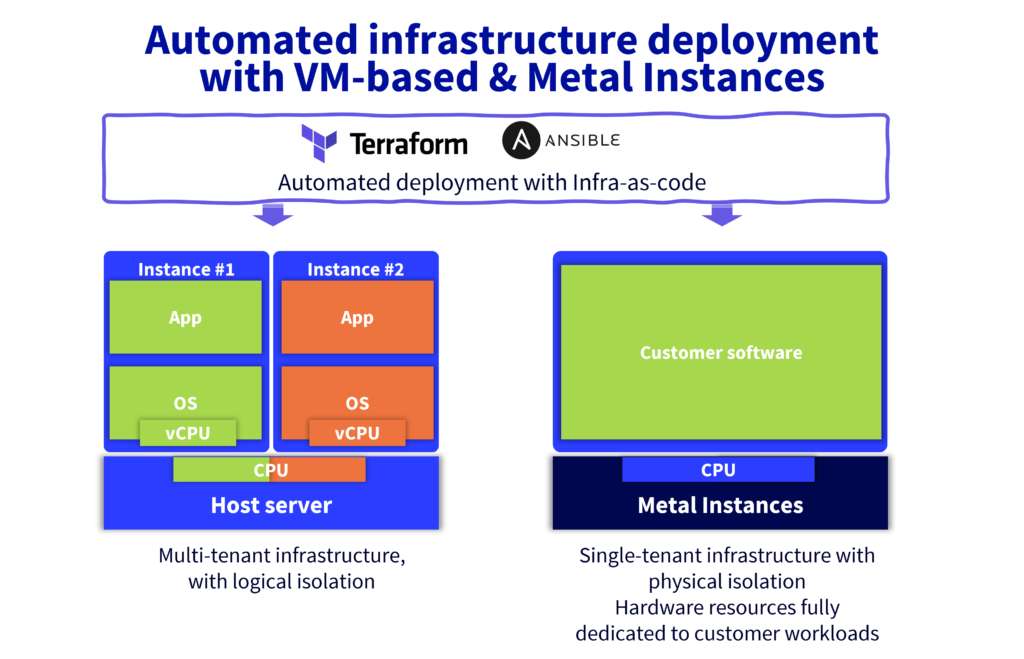 Specific software licensing
For licensing reasons, some applications require specific low-level software. We've seen this case with some beta customers that configure a Red Hat virtualized environment to run an Openshift cluster. The requirement is twofold—a certified hypervisor is required to run Openshift, but to standardize deployment, automation is needed too. Another case was from a customer moving to the cloud and concerned the installation of Windows Desktop in a manner to comply with the licensing for the application running atop while being able to reuse its automated workflow in the cloud.
Video related use case
With all hardware resources being dedicated to the workload, some beta customers wanted to implement video-related use cases such as conferencing or rendering.
"Metal Instances are a great solution for our heavy workloads because they give large amounts of resources for short amounts of time. We need to be able to increase our capacity during the day and vice versa at night."
Typically, the fact that Metal Instances are available on demand, billed hourly, and can be automated, makes them a perfect solution in that light.
Wrapping up
The launch of Metal Instances is a key milestone and our teams that made this release possible deserve huge congrats! To get the full details about the products, go to our webpage: https://www.ovhcloud.com/en-ie/public-cloud/metal-instances
The table below provides the specs for Metal Instances. Hourly prices start from 0.5€ and monthly price starts at 170€ and the detailed price list can be found here: https://www.ovhcloud.com/fr/public-cloud/prices/#419
| | | | |
| --- | --- | --- | --- |
| Name | Small: bm-s1 | Medium: bm-m1 | Large: bm-l1 |
| CPU | Intel Xeon-E 2274G – 4 c/8 t — 4 GHz/4.9 GHz | Intel Xeon-E 2288G – 8 c/16 t – 3.7 GHz/5 GHz | AMD EPYC 7371 —16 c/32 t – 3.1 GHz/3.8 GHz |
| RAM | 32 GB | 64 GB | 128 GB |
| Disk | 2 x 960 GB SSD NVMe Soft RAID | 2 x 960 GB SSD NVMe Soft RAID | 2 x 960 GB SSD NVMe Soft RAID |
| Network | Public: 1 Gbps/Private: 2 Gbps | Public: 1 Gbps/Private: 2 Gbps | Public: 1 Gbps/Private: 2 Gbps |
Currently, Metal Instances are available in our Beauharnois, Strasbourg, Gravelines, Limburg, Erith, and Warsaw datacenters. Stay up to date with location availability here.
For new customers to our Public Cloud, you can take advantage of our free trial and test this new service along with our full catalog. We are always looking for feedback, feel free to reach out on our Discord channels. You may also want to check out our publicly available roadmap on Github and propose new features and interact with our Product Managers.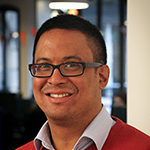 Product Marketing Leader Public Cloud. Helping organizations adopt cloud native technologies