On February 2nd, 2023, we held our first tech convention, the Very Tech Trip. Thanks to your participation, we were delighted to have a full house at La Cité des Sciences et de l'Industrie in Paris, for the first edition of this event dedicated to technology enthusiasts. Lots of you attended the 80 tech sessions led by renowned speakers and our own experts, on topics as diverse as sustainable cloud, data & AI, cloud gaming, security, native cloud…a plethora of themes around cloud solutions that we are building with you, thanks to you. To continue the discussion, join our community on Discord.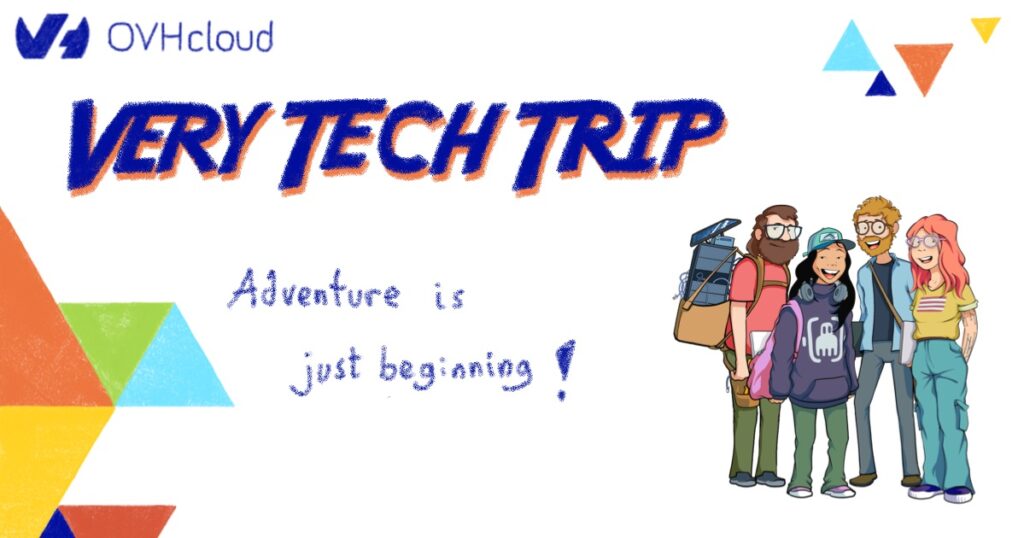 Many of you also followed our keynote online, and explored our broad portfolio of cloud products and solutions. These solutions illustrate our commitments to you: to offer you a trusted, reversible, interoperable, sustainable cloud at a predictable and transparent price.

During this comprehensive overview, there were plenty of announcements. Our focus is to get as close as possible to your business challenges, and bring you a comprehensive range of solutions for all of your user profiles.
If you work in DevOps, cloud architecture, SRE, or DevSecOps…
You are looking for complete control and security for smooth deployments, as well as new computing capabilities. Here are the new solutions that await you in your Public Cloud:
IAM and KMS
IAM and KMS are joining our portfolio to provide you with full encryption and control: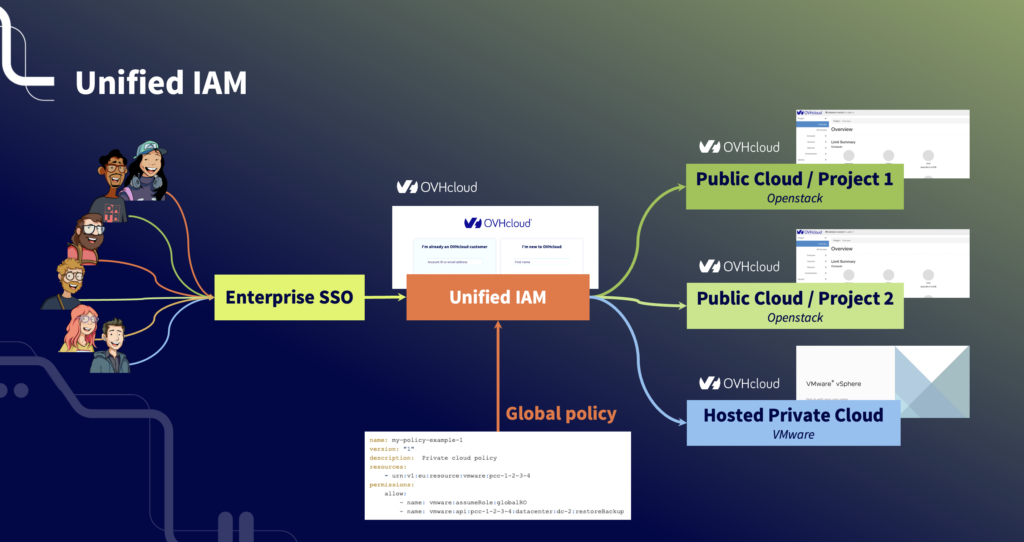 IAM will offer centralised access management. Already using federated SSO, IAM will be offered via API at the end of February, and via the manager by May. It will then be gradually extended to our products, starting with IAM for the Public Cloud in late May, and IAM for Hosted Private Cloud on VMware on OVHcloud at the end of August.
KMS will automate secret management, with a beta version at the end of summer.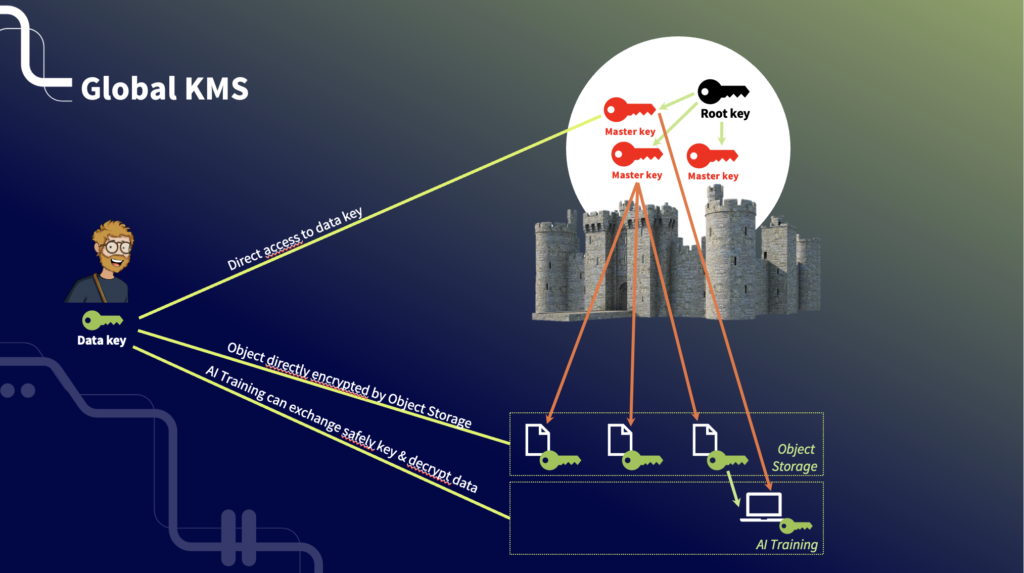 Both solutions will be open-sourced and offered as-a-Service, in line with our commitments to provide a trusted, reversible cloud. Want to be part of it? Become a beta tester and give us your feedback by pre-registering on our OVHcloud Labs page.
Metal Instances
Following the launch of Metal Instances earlier this year, new Compute instances will be added to our Public Cloud solutions by the end of the summer. In addition to providing bare metal performance and on-demand availability, these new instances will benefit from a next-generation physical network, which will increase its capacity by 5 times.
What's more, the Metal Instances solution is based on our renowned expertise in infrastructure management, hosted in eco-friendly datacentres.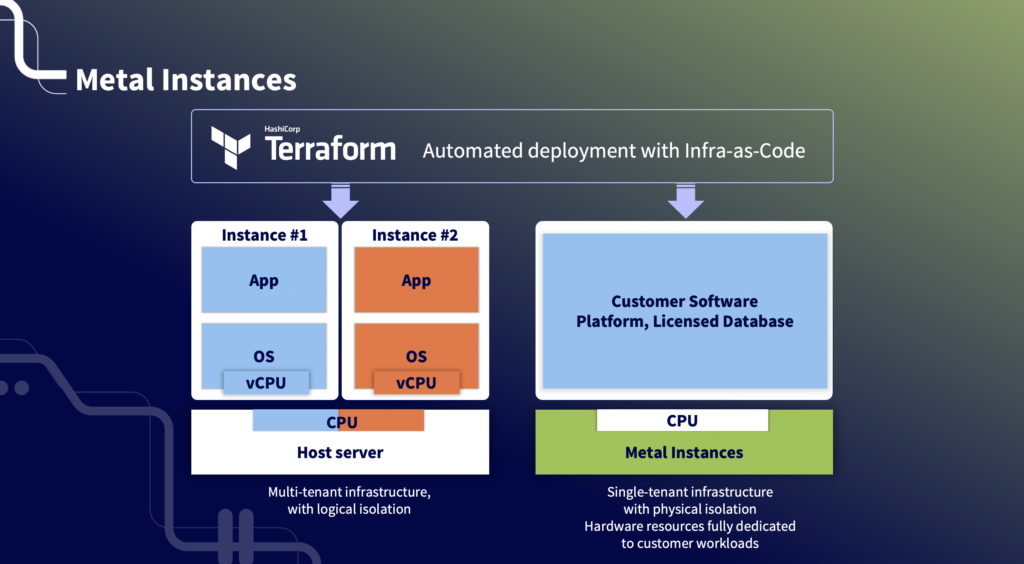 Managed Kubernetes
Finally, a new Multi Cloud and Hybrid Cloud Kubernetes offer will allow you this year to orchestrate nodes hosted with us, with other providers and on-premise. And this solution will be reversible and open-sourced.
To find out more, check out the OVHcloud Public Cloud roadmap on GitHub.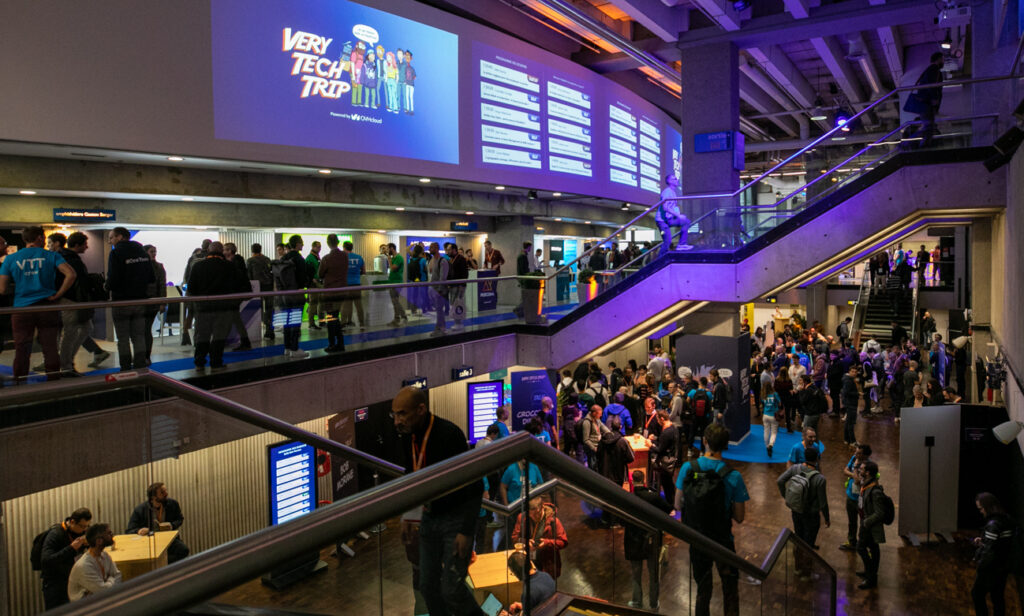 If you are a Data Scientist, Data Analyst, Machine Learning or Artificial Intelligence engineer…
We want to help you take advantage of storage and Big Data opportunities, and harness the full potential of AI. And we have never stopped innovating to enrich our Public Cloud:
Storage
Your database consumption will be made easier, with the ability to dynamically select disk sizes. SQL databases will also integrate with S3 object storage.
If you are a Block Storage user and your storage requirements are constantly growing, you will soon get an NVMe-oF-based solution with much higher throughput rates. In this data disaggregation scheme, computing resources are physically separated from storage. A dedicated beta version is expected in the autumn. Make sure you register your interest, and you too can become a beta tester by pre-registering here.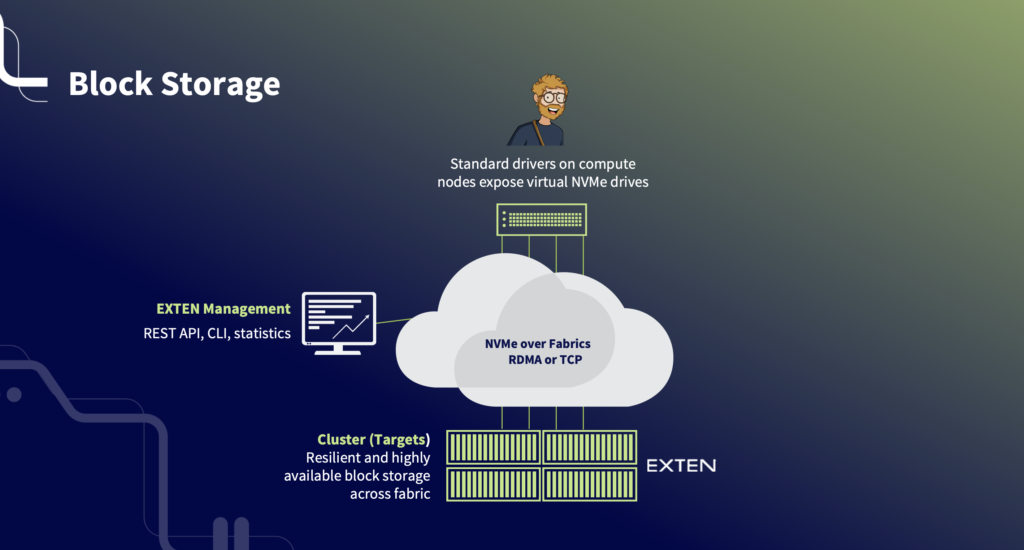 Artificial intelligence
You will benefit from the generational hardware leaps we are making on our infrastructures. These new generations will rely on the training phase, a crucial step already taken on by the OVHcloud AI Training solution, which helps hide the complexity of the infrastructure. Recently launched as a beta version, AI Deploy makes it easy to switch from inference to production as soon as the AI models are ready. The final version of AI Deploy is scheduled for early April and will include pre-trained NLP beta models from Gladia and Voxist.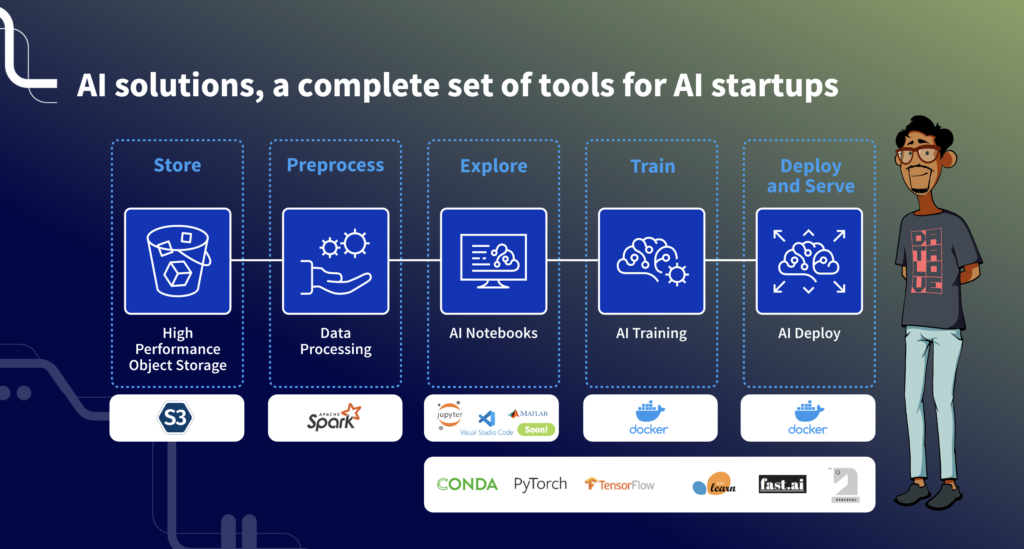 ForePaaS
With the acquisition of ForePaaS, our Data services portfolio will evolve to gain new features, based on a new infrastructure, while maintaining a No-Code approach.
While the basic building blocks will be offered in as-a-Service mode for data extraction (ELT), with an Alpha version expected in August, you will also benefit from a Lake House so that you can facilitate your experience by experimenting with a complete orchestration solution, with data visualisation in the long run. The Lake House is expected in winter 2023.
This solution will be made Open Source for full reversibility and no lock-in, and will serve as the basis for future customisations.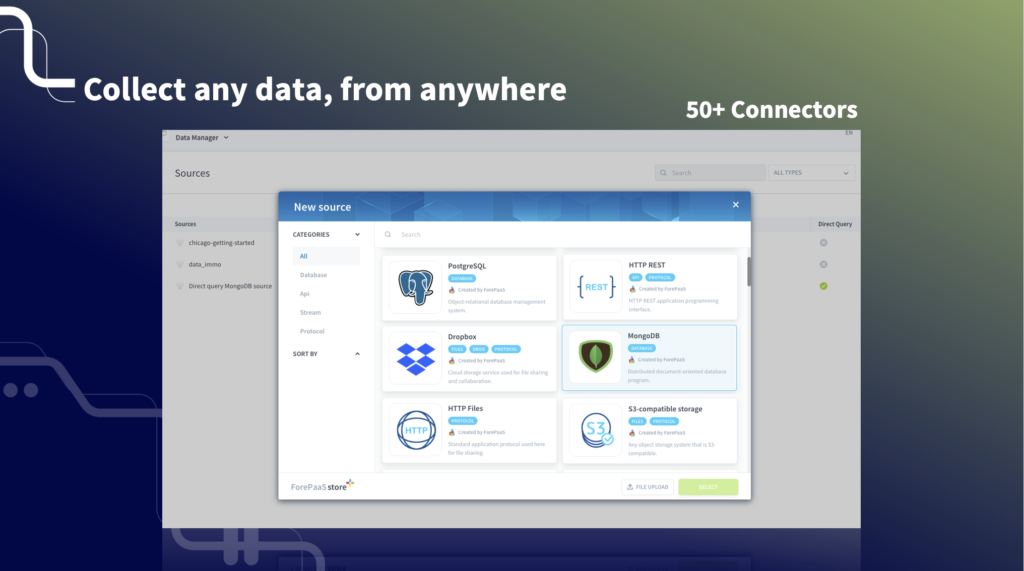 For more information, see the OVHcloud Public Cloud roadmap on GitHub.
If you are an infrastructure manager, Tech Lead, CTO, CIO…
We have new solutions so you can meet the challenges of lift & shift in sovereign environments. Your Hosted Private Cloud universe will evolve as well:
Our VMware-based solutions will soon be able to manage applications on Tanzu services. The VMware offer will evolve and integrate NSX in April for enhanced security, in line with our commitments to maintain a trusted cloud.
For trusted environments, if you are an SAP user, you can already select SAP HANA TDI compliant Bare Metal servers, and you can deploy SAP HANA in a SecNumCloud-qualified environment in Hosted Private Cloud. With more memory available in these new configurations, we will manage the hypervisor and infrastructure with vSAN HANA-certified packs, so you can focus on your core business.
Want to learn more? Follow the OVHcloud Hosted Private Cloud roadmap on GitHub.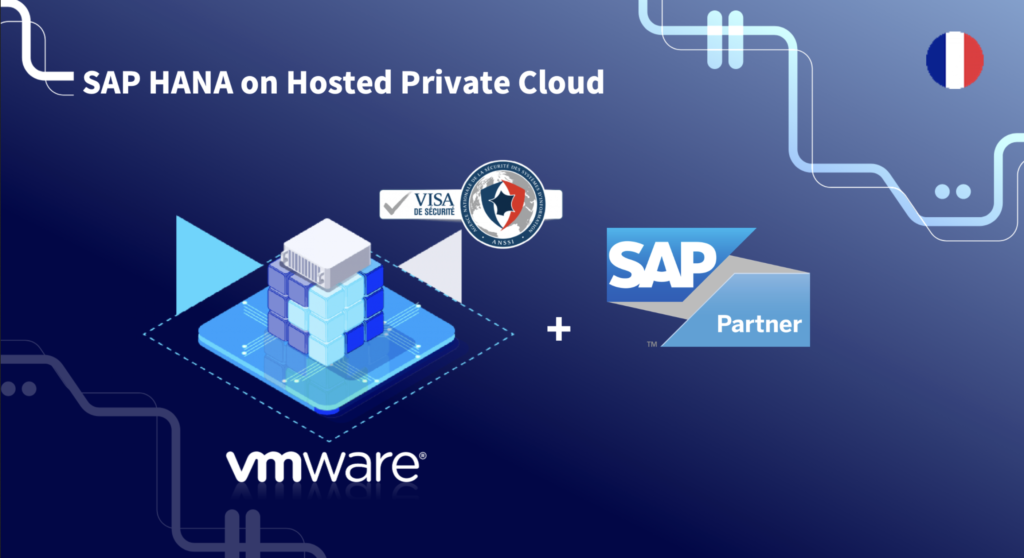 If you are a web developer, digital project manager, web designer or you are part of a web agency…
We are working hard to offer you a global approach through our Web Hosting & Domains universe:
Starting in May, web hosting plans will be receiving a new generation of solutions, so you can get your web projects off the ground more quickly. A new server infrastructure will help deliver better performance and faster page loading times, with more features at the same price, to continue to offer you the best price/performance ratio.
We are launching an alternative email solution based on Zimbra with ActiveSync support, along with standard collaboration tools with the highest security models in mind.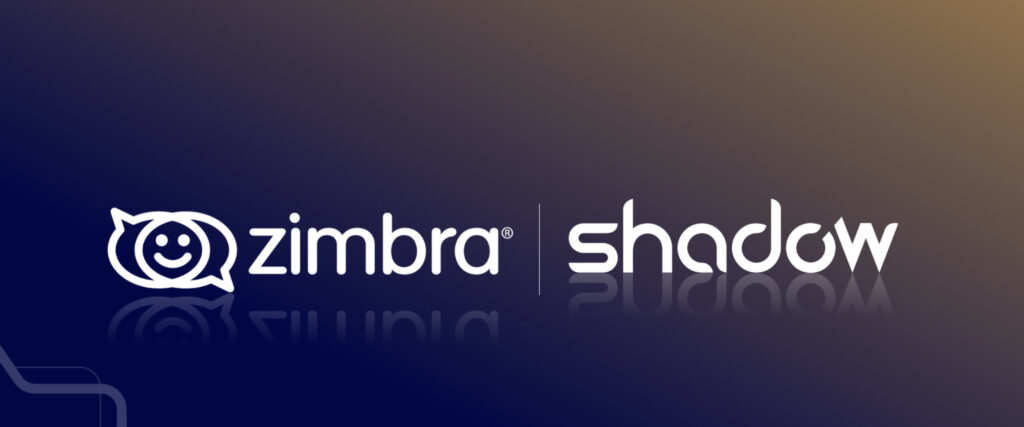 Telephony solutions will also evolve with the arrival of a new softphone offer, which integrates with all your communication and collaboration tools.
Finally, if you are a sysadmin, engineer or technician in infrastructure, network, or storage…
We know that our industry expertise, and ability to deliver the best-performing cloud at the best price, is essential for you to plan your future projects with peace of mind. So, we have turbo-charged our Bare Metal universe even more:
A new generation of Bare Metal
The next-generation Bare Metal will take advantage of AMD Genoa and Intel Sapphire Rapids chips, with configurations of up to 256 x86 cores per server. In terms of memory and storage, this new generation will have up to 8 TB of memory for dual socket models with NVMe, and up to 2.2 PB of storage capacity. The Scale and High Grade Next Gen products will be launched this summer.
You will also get several new GPU models with superior performance when it comes to AI, as they will take on the most intense workloads. A Grid Computing platform will be available to support you, with all the power of our 16 KW racks.
A beta programme is expected in October 2023. Until then, pre-register here.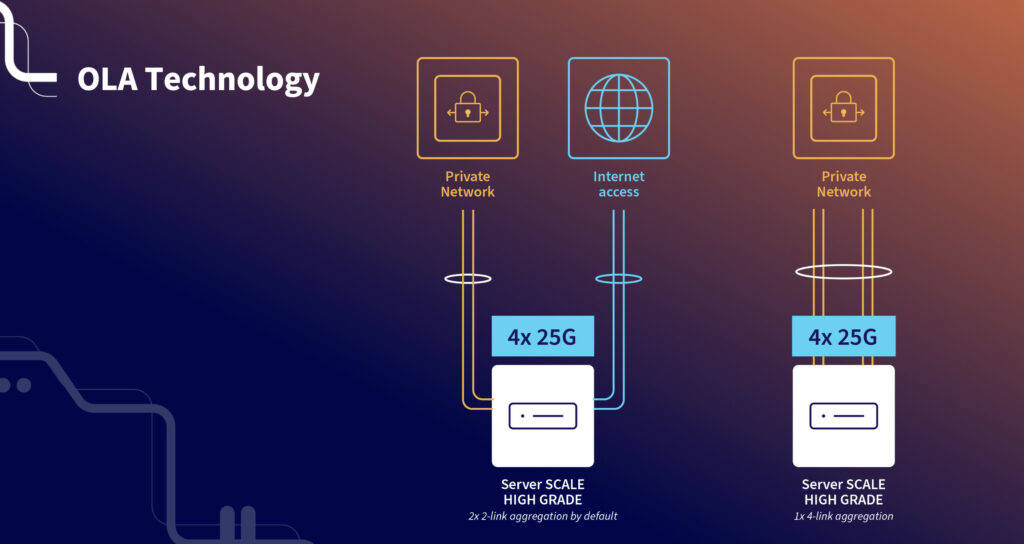 Network
In terms of network, we plan to deploy connections of 25, 50, 100 and soon 400 Gbit/s. Coupled with 4 interfaces per server and OLA technology, bandwidth will reach new heights in the datacentre for maximum flexibility. The traffic is still included in the pricing, both in the datacentre and between datacentres, helping to keep costs predictable.
For more information, follow the OVHcloud BareMetal & Infrastructure roadmap on GitHub.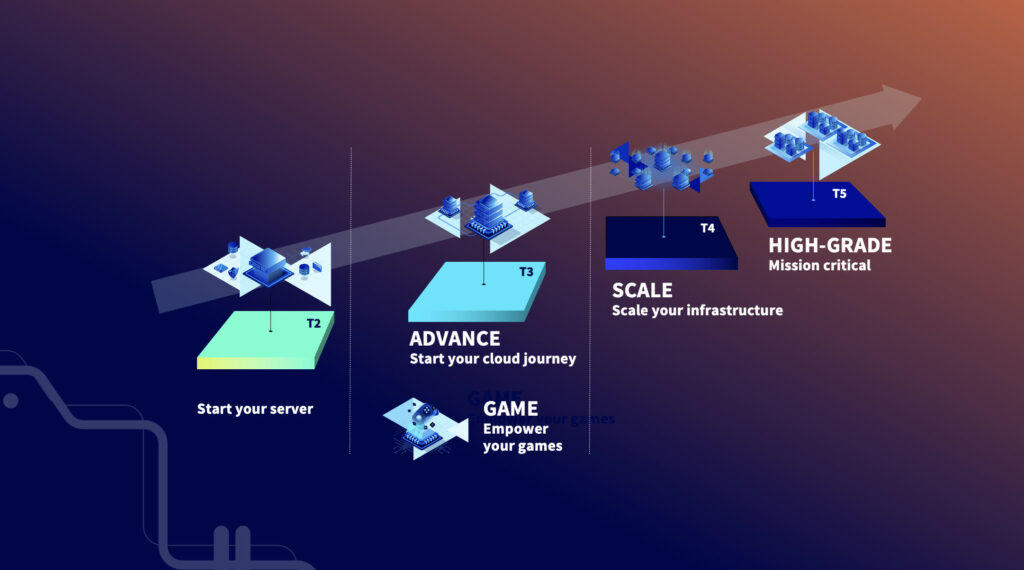 The Very Tech Trip adventure continues!
The Very Tech Trip adventure is just beginning, and we look forward to seeing you again in the future. Your feedback is important to us throughout the year. it is at the heart of our technological and industrial model. So, whatever your challenges, let's continue to share our passion for technology and continue sharing ideas. There are plenty of ways to do this:
Thank you again for your participation in this event, and see you soon for another trip.
Congratulations to the entire ecosystem!
We would like to thank Capgemini and Samsung (our Gold sponsors), and VMware, Nutanix, Veeam, Netapp, Percona and TD Synnex (Silver sponsors).
We also particularly appreciate the commitment of all the speakers giving talks throughout the day, as well as all those who sent proposals to our Call for Papers.
Finally, we would like to thank all the visitors who made the journey to come and share the experience with us.