Dear Customers and Partners,
On behalf of the entire OVHcloud team, I am delighted to wish you all the best for this new year.
2023 opens with unprecedent changes in the world. Whatever challenges you'll face, we are very proud to support you in your digital projects, and we are grateful for the trust that you have placed in us year after year.
This trust is at the heart of our model: it guides the relationships we forge with our ecosystem, and directs all of our technical innovation strategy. It also gives us a greater sense of responsibility in how we deploy our open, sustainable and transparent business model.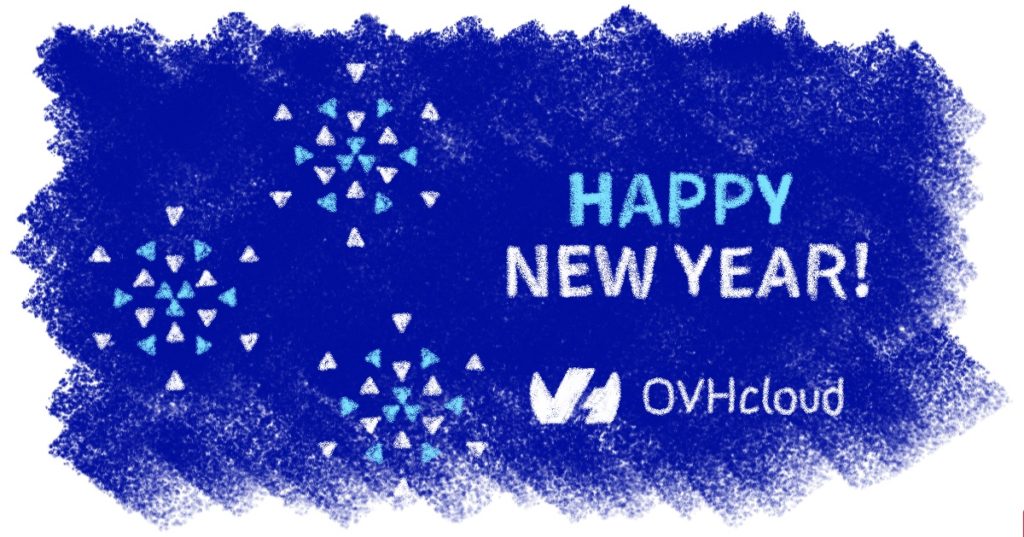 Our teams are keen to support you, and remain committed to understanding and addressing your current and future business challenges. Together with all of you — our valued customers and partners — we will continue to build a trusted cloud. To do this, we are constantly expanding our portfolio by offering new products, namely a comprehensive set of PaaS solutions (managed databases, containerisation services, AI, Modern Apps). More than 40 new solutions have been designed by our teams and with market leaders to offer you the best price/performance ratio on more than 80 products. We have moved swiftly to the forefront of planning ahead for the quantum revolution that will shake up technology as we know it.
We are building with you a next-generation multi-cloud ecosystem, driven by our common values. Values that you, as customers or partners, already demonstrate and defend with your users: reversibility, interoperability, sustainability, and predictable pricing. Like you, we believe that success is — above all — the result of a collective approach and commitments.
Thanks to your continued trust in us, and your commitment to our ethical and sustainable cloud, we can continue jointly developing solutions.
What we have shaped together has brought us far: we are now in the world's top rankings, and IDC recently named us a "Major Player" in its latest study "OVHcloud is positioned in the 'Major Players' category in the IDC MarketScape study: Worldwide Public Cloud Infrastructure as a Service 2022 Vendor Assessment". (Source: IDC 2022)
In 2023, we will continue to offer the best price-performance ratio on the market. We will continue these developments by building on our 4 pillars:
Innovation to offer you the best products, especially with nearly 60 PaaS solutions now available.
An active ecosystem of integrator partners, publishers and startups, covering all sectors and uses.
A trusted, sovereign cloud (with compliance for all local regulations).
An eco-responsible, sustainable cloud.
Innovation: A driver of our common growth
The high-performance cloud technology that powers our solutions is designed to be a solid driver of growth for our ecosystem of customers and partners (more than 1,100 active partners). To increase your value proposition, our products will also include new key features soon, such as:
Enhanced security (IAM and KMS).
Storage (Object and Block Storage) to manage the higher volumes of data required for machine learning and artificial intelligence applications.
Containerisation (Kubernetes).
Finally, for those of you who use our services to handle the most sensitive data, we have developed strategic solutions like Datacentre as-a-Service— and we have already mobilised a community to support future quantum offerings.
An ecosystem to drive your success
In 2023, we will continue to federate the entire ecosystem internationally. Some of you are already trailblazers in supporting and accelerating the transformation of cloud infrastructure suchas Sopra Steria, Accenture, Bechtle, Capgemini and Inetum.
Together, with some of our most strategic partners, we will pursue a strengthened commitment to a trusted and sovereign cloud through the Open Trusted Cloud label.
You can find our range of programs, ecosystem members (900 R&D developers), and strategic technology alliances such as Samsung, AMD, VMware, Nutanix, Veeam, Intel, MongoDB, Aiven, Platform.sh and NetApp.
We support the most innovative startups (2,900 in the OVHcloud Startup Program) which now extends to the United States. And with our Marketplace, we're expanding the catalogue of SaaS and PaaS solutions based on our trusted cloud
Our Open Trusted Cloud label is supported by our 600 software publishers. It guarantees compliance with all of our actions, along with the strictest regulations — on both a European and international level. To meet the challenges of our customers and partners, we are compliant with European certifications such as G-Cloud in the UK, SecNumCloud and HDS in France, C5 in Germany, and AgID in Italy.
These valuable collaborations contribute to the success of your digital transformation. The success of our Ecosystem Experience 2022 collective event is a testament to the importance of this joint work. Once again, we'd like to take this opportunity to thank all of you who took part in this event — whether you were involved as speakers during the keynote, official partners, or whether you watched our international broadcast and replay.
Thank you for helping us make this event a success!
In the spirit of continuing to unite our community, we're inviting tech enthusiasts to our Very Tech Trip convention, which will be held on 2 February at the Cité des Sciences in Paris. Whether you are a developer, systems administrator, data scientist, solutions architect, student, OVHcloud Startup Program member, Open Trusted Cloud member or partner, you areinvited to a full day of keynotes and workshops on themes such as infrastructure and hardware, data management, innovation, security and the web.
Becoming a key player in sustainable development and the circular economy by offering the best price-performance ratio on the market
Since our creation, we have continuously improved our unique industrial model to meet your needs as closely as possible. Our model is vertically integrated, and ranges from manufacturing our servers in our own factories to refurbishing hardware components. This is what helps us extend service life, and repair components on a large scale. This refurbishing cycle is completely unique on the market, and our integrated model guarantees our independence and sovereignty. This is why we can guarantee competitive prices on the market — even in this current climate of geo-political upheaval and global economic turbulence.
Since 2002, we have also guaranteed your control over your energy costs and budget. We are one of the cloud's leading champion terms of energy reduction, with a PUE (Power Usage Effectiveness) score of 30-50% less than the market standard, and a WUE (Water Usage Effectiveness) score 5-10x lower than the market standard. All of this is supported by innovative water-cooling technology, which was one of the first of its kind to be applied on an industrial scale.
We also reduce our carbon emissions through our very low energy and water usage, thanks to our integrated industrial model (we build our servers), the requalification of our datacentre components, and our ability to recycle and refurbish components in a circular economy in France.
We are committed to remaining transparent about our sustainability commitments.
In a fast-changing world, our teams have also worked hard to develop cloud solutions that are sized to meet your specific needs — especially if you contribute to certain industries, such as financial services, media, defence, the public sector, and the healthcare sector.
In 2023 and beyond, we will continue to reaffirm our vision and the common values we share with you. We remain committed to doing everything we can to ensure you have an open, reversible, transparent and sustainable cloud — one where you can innovate in total freedom. We are deeply touched by your renewed trust in us, and we promise to continue offering affordable solutions that are tailored to your needs and expectations. Your recognition drives us on a daily basis, and encourages us to innovate continuously, so that you can bring all of your cloud projects to life. With no technical or financial lock-in, our trusted cloud will help you continue to grow in total security.
We look forward to writing these new pages together and supporting you in your freedom to innovate.
We wish you a successful new year!
Michel Paulin and the entire OVHcloud Team