Let me introduce you to OVHcloud's latest and largest storage server, the HGR-STOR-2.
Based on our High-Grade server architecture, it offers up to 1,428TB of raw storage.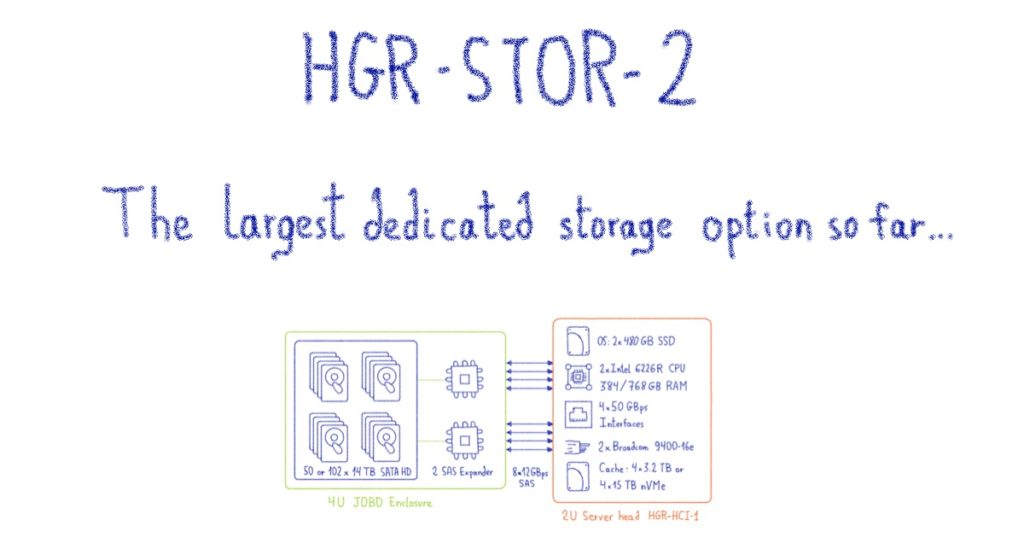 But how did we achieve that?

We coupled our dedicated server to a 4U JBOD enclosure containing 50 or 102, 14TB SATA drives.

The head server is a dual socket 6226R Intel Xeon (32 cores total) with 384GB RAM or 768GB as an option, 2x 480GB SSD for the operating system of your choice and 4x50Gbps Interfaces.
Drive management is handled by 2x Broadcom 9400-16e HBAs.
For even more performance, as an option, you can order NVMe drives to handle and/or improve I/O caching: 4×3.2TB NVMe or 4x15TB NVMe.
Or you can use them to meet your low latency/random I/O workloads requirements.
Get the best of both worlds: spinning media for sequential writes or long-term storage and NVMe for high performance applications.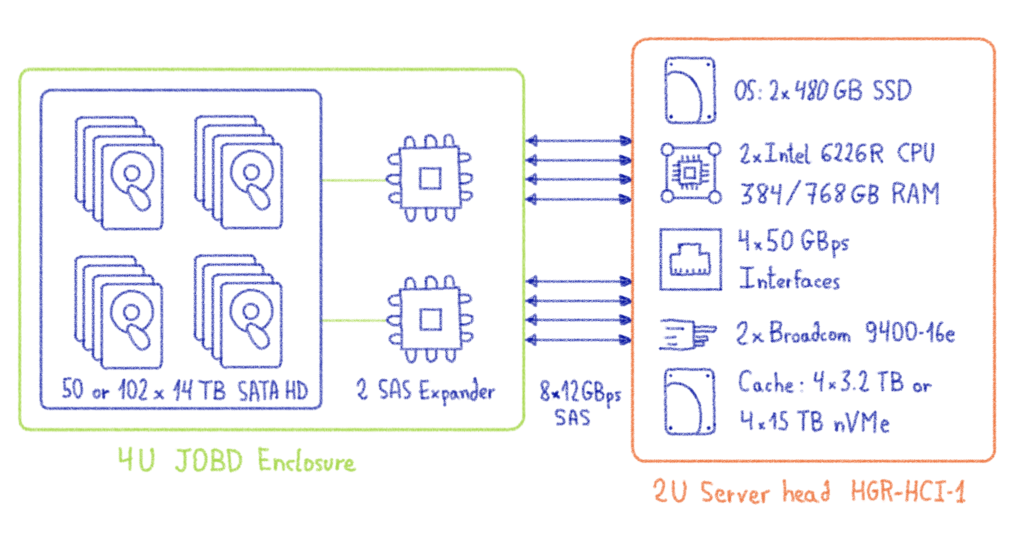 Let's look at what we have:
a very large amount of storage space, that is dedicated to you
the operating system of your choice (Bring Your Own Image or get your server pre-imaged with our tested distributions)
freedom to configure and assign as you want
vRack compatibilty
HBA that supports software RAID levels 0, 1, 5, and 6 and RAID spans 10, 50, managed by StorCLI/LSA (LSI Storage Authority software)
Storage is delivered raw, so that you can use your own method for drive assignment, partitioning, stripping/mirroring or use the StorCLI/LSA configuration software to, create:
Disk groups: all physical drives in a disk group have the same RAID level
Virtual disks: each virtual disk is assigned to a disk group and has its own cache attributes. All the virtual disks in the same disk group share disk I/O.
Volumes: file-based or block-based storage space with the filesystem of your choice (OS dependant)
Let's talk about use cases…
How you use it is really up to you, but let's get you on track and give you a few examples.
Performance control
You're a large virtualization user.
With HGR-STOR-2, you have complete control of your drives and volumes including their I/O.
As we know, random and sequential workloads have a very different impact depending on media and RAID configuration. With a standard volume, you don't have a choice, all your applications have the same RAID level and run on the same disks.
With the HGR-STOR-2 server, you are given the power to decide. You can isolate your boot drives from your data drives by assigning them to different volumes, on different media if you have access to the NVMe drives.
Your database can reside on a dedicated RAID10 disk group and/or NVMe to benefit from random I/O performance, while the log partition would use RAID5/SAS disks for enhanced sequential writes speed.
And thanks to the 50/102 drives available, your volumes are freely extendable.
The OVHcloud baremetal catalogue has multiple storage solutions and you find yourself juggling between offers to meet different needs: resizing volumes when possible, moving data to new volumes, reconfiguring access and network….
HGR-STOR-2 is the answer, in terms of space available, evolution and performance. With both internal and external interfaces, you can access volumes from a public IP or from the Vrack.
Having a large capacity also means that if you don't use it all today, you have unused drives that you can allocate on the fly to extend disk groups or volumes without the need to reconfigure volumes/shares/permissions. You're just a couple of clicks away from extending your volume and being able to host even more data.
And with 4 network interfaces, you won't suffer from congestion and I/O bottlenecks.
With vRack compatibility you take advantage of high bandwidth between OVHcloud datacentres and unlimited traffic at no additional cost. Deploy HGR-STOR-2 in multiple locations to backup/replicate your data and keep it safe. Using the operating system of your choice means that you have the liberty to install any software you'd like to leverage your expertise, extend your software licences usage all while assuring that your data is fully backed up and secure. Your data is synchronized across multiple sites and is available when and where you need it.
Equipped with the dual Intel Xeon 6226R and with up to 768GB of memory, the HGR-STOR-2 is more than a great storage unit. It's a real workhorse with 64 threads, capable of managing and processing large volumes of data.
And this data is accessible through 8 redundant SAS interfaces running at 12Gbps. Make latency a thing of the past by selecting the NVMe drive option. HGR-STOR-2 is ready for your data lake with up to 102 disk, 4 NVMe drives, fast interfaces in and out, and 64 threads.
The new OVHcloud Bare Metal HGR-STOR-2 unit is a unique machine in our storage portfolio. It is as close as you can get to a storage array and the processing power of a High Grade server. The range of options in regards of the number of drive configurations makes it flexible enough to suit all your needs. And if you require more, upgrades are available to match your growth, without complex migration or reconfiguration.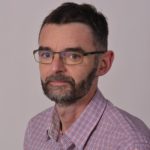 Technical Marketing Specialist @OVHcloud
About 20 years of experience in HW storage/backup/replication.....