What is HCI?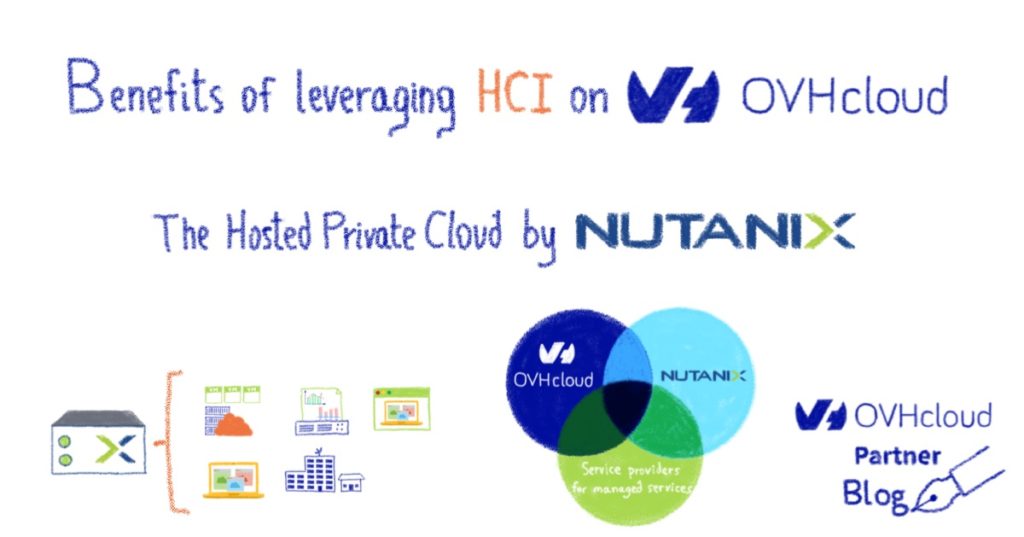 Let us first demystify HCI. HCI is short for Hyper Converge Infrastructure which virtualised core elements of a traditional Datacenter like storage, compute, network and management into a software defined unified system controlled from a single panel.
The benefits are multiple both from a business and technical standpoints. Ranging from simplified deployment & management, easy upgrades, improved performance & lower Total Cost of Ownership to improving the competitiveness of the business overall by being more agile. Eliminating the needs for separate interfaces drastically improve the efficiency of IT teams freeing them to perform more productive tasks to improve the business.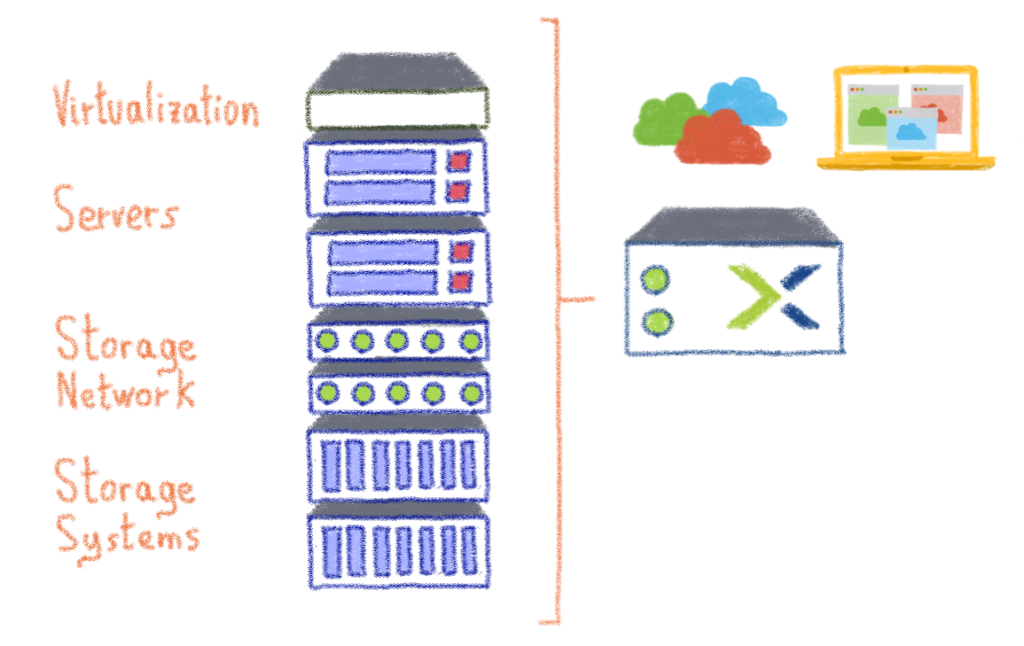 And Nutanix?
There are many HCI vendors but Nutanix is the leader in this market according to latest reports from Gartner Magic Quadrant 2021. The applications & services that can be deployed on Nutanix HCI range from VDI solutions, Enterprise applications, Databases & Big data.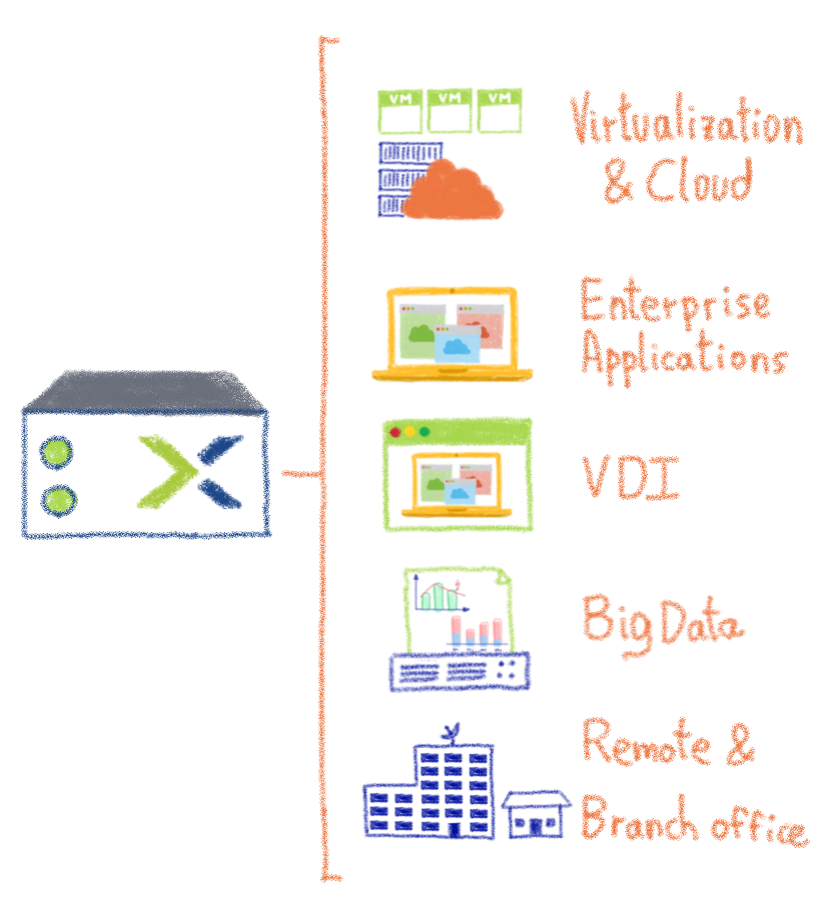 Although there are numerous benefits to HCI, there are still limitations when deployed on-premises. Customers can get the best of both worlds by combining Nutanix leading HCI solution on a cloud platform which is open and secured with predictable and transparent pricing. Hello OVHcloud!
OVHcloud & Nutanix are now partnering together to provide a new Hosted Private Cloud offering combining OVHcloud high-end Bare Metal resources with the Nutanix virtualization software platform : The Hosted Private Cloud powered by Nutanix
Why Nutanix on OVHCloud?
All-in-one platform delivery : A combination of OVHcloud high end secured infrastructure with pre-deployed Nutanix stack.
Data Sovereignty: OVHcloud is a Non-US Cloud service provider and the Data Centers are in Quebec & Europe.
Predictable pricing : OVHcloud provides cloud services with simple billing and no hidden costs. No Ingress-egress Fees will be applied for the HCI platform.
Performance : The Latest Infrastructure hardware will be deployed to get a really High Performant HCI solution as well as leveraging OVHcloud private network (vRack)
Fast deployment : Once order is fulfilled, scripts are running to deploy Nutanix cluster in few hours.
Secured by design : Physical hosts are inside OVHcloud datacenters (DCs) and are monitored 24/7 via our teams. All DCs are certified ISO27001 and other certifications such as HDS, PCI-DSS, HIPAA etc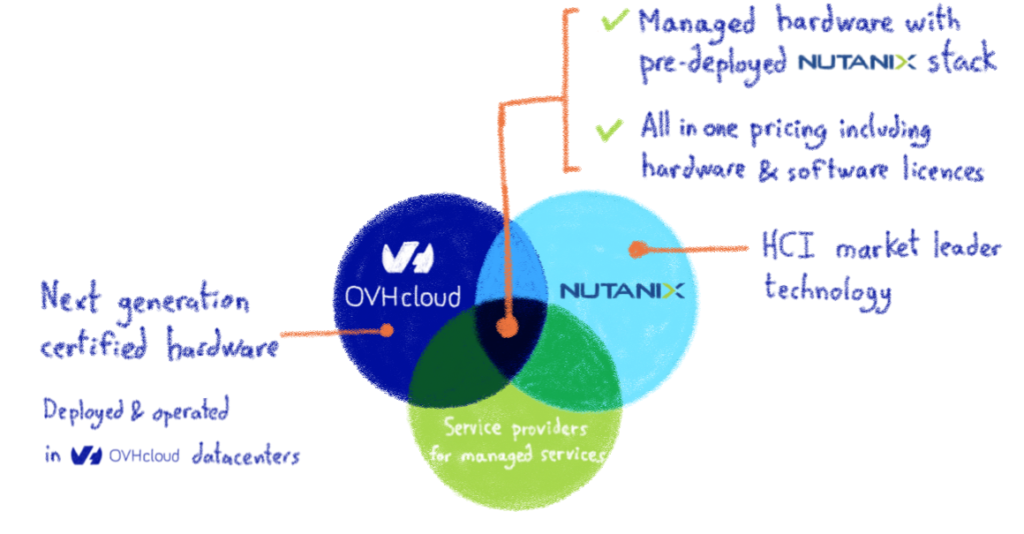 So basically, the customer will be buying a pre-installed and ready to use Nutanix hyperconverged environment on 100% dedicated OVHcloud Private Cloud infrastructure with a minimum of 3 nodes (up to 18 nodes) connected through OVHcloud vrack private networking with extended networking via OVHcloud Connect.
OVHcloud Partners will help to provide the Professional services to support the customers who do not have inhouse expertise to do this.
Does you or your customers have a need for Disaster recovery planning, workload overflow, brand new Workload, Hydrid Cloud Strategy or a complete Infrastructure renovation? Do not hesitate to contact our sales or our partner ecosystem (worldwide) to help you select the best HCI Nutanix architecture on OVHcloud.