Our goal is to offer you products with predictable pricing, and the best price-performance ratio. Our economic model is based on the fairest prices, and we now need to update these prices in line with the price increases applied by our suppliers.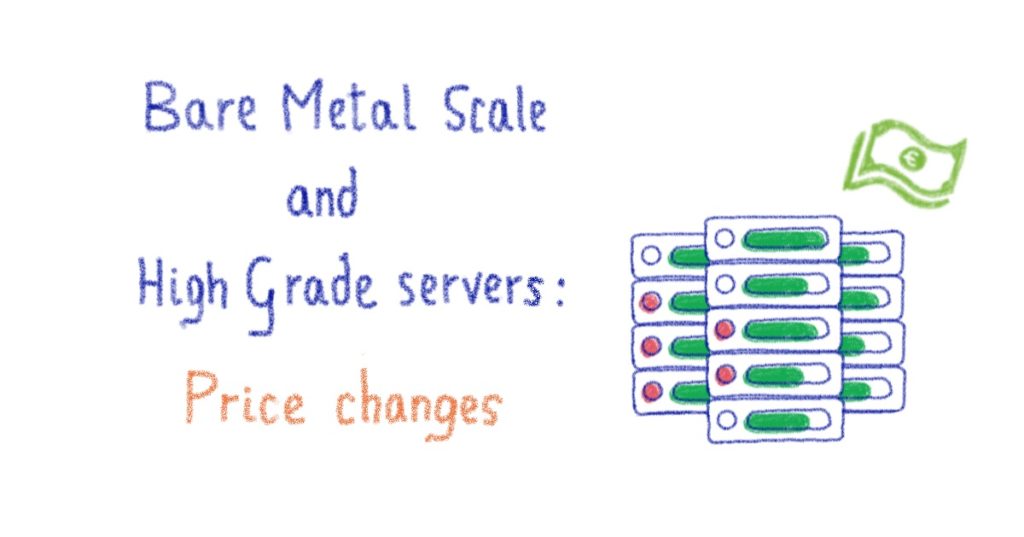 What is the market situation?
For several months now, all sectors — including the cloud industry — have experienced difficulties provisioning electronic components such as motherboards, CPUs, GPUs, hard drives, memory cards and network cards. More specifically, the shortage of semiconductors is what causes all of these supply difficulties. They are the basis for the design of any electronic component.
This shortage has several causes, which have mounted up over the months.
The COVID-19 pandemic led to an increase in computer sales. It also led to a decrease in production capacity, with the series of lockdowns in many countries.
The trade war between the US and China has led to taxes on various Chinese companies in the sector, such as SMIC (Semiconductor Manufacturing International Corporation). The companies then fell back on the second biggest producer: Taiwan.
A record drought in Taiwan slowed semiconductor production chains, because factories need thousands of tons of water to operate.
International freight is also in crisis. Many shipping companies had reduced their fleets during the pandemic, but were caught off guard by the economic recovery in some countries. As a result, the cost of shipping goods by sea has skyrocketed.
We cannot be exhaustive about the many causes that add up and create this phenomenon, but it is clear that this chain of natural and economic hazards has really dealt a significant blow to this activity.
These factors have also highlighted how difficult it is to manufacture these critical components in the technology sector. Semiconductors are complex and expensive to produce. As a result, the number of companies and factories able to produce them in large quantities is reduced. In the face of skyrocketing demand during the post-pandemic economic recovery, the few market players capable of meeting it are facing production and transport difficulties (as detailed above). The resulting increase in the price of semiconductors also drives up the price of all electronic components that are dependent on them, saturating the market as a consequence.
What are the short- and long-term prospects?
If we look at cloud providers, this crisis is hitting us hard. Servers lack a variety of critical components for assembly. Due to high demand from the sector (especially in China), delivery times in Europe are considerably longer. Following the improvement in the healthcare situation in several regions of the world, industrial sectors are resuming their activity. Their production is increasing, and they need electronic components. At the same time, the companies involved in the production of semiconductors are at maximum capacity. This has led to market congestion, which has resulted in longer delivery times — and in turn, it has negatively affected our server production schedule.
As a result, we are seeing an overall increase in market prices. Due to a sharp increase in the prices of components we use to produce our servers, our production costs have increased as a knock-on effect. Many industry players do not see improvement in the short-term, as the demand remains constantly high, and tensions between the US and China show no sign of easing. Depending on the type of components involved and the materials they require, the situation may ease by 2023 (particularly for electronic chips). This obviously depends on geographical, environmental and geopolitical developments.
What impact does this have on the price of our products?
Thanks to our supply chain and long-term strategy for managing and provisioning component stocks, we were able to maintain the same price for our Scale and High Grade servers for several months. These ranges have been an enormous success, and demand has been high since their launch — so we plan to produce more servers, which requires us to order new stocks of components. From a manufacturing perspective, the increase in the cost of raw materials due to their scarcity — as well as the increase in energy prices — has left us no choice but to raise how much we charge for our products.
We delayed this price change for as long as possible, in the hope that this period of price increases for our suppliers would not last. Unfortunately, this situation is not expected to return to normal until 2023. We will need to adjust the pricing for our Scale and High Grade dedicated server ranges, as well as their options. An individual communication will be sent to you one month before this price increase, to inform you of the new prices.

Will the price increase apply to Scale and High Grade servers ordered prior to this change?
We are aware of the financial impact this change may have on customers who have already subscribed to one or more dedicated servers, so we have taken the decision not to increase the prices of servers already delivered or awaiting delivery.
How will we limit the impact of this price increase?
In the next few weeks, we will modify our Scale range to limit the price increase for customers who do not need storage disks in addition to the system disks included by default. This market demand will meet the expectations of customers who want to create an infrastructure with proxies and/or web front-ends. The other change applies to the SCALE-1 server, which will be available with 128GB memory by default. The purpose of these adjustments is to limit the impact of the price increase on the Scale range, while meeting market expectations.
As a reminder, the Scale and High Grade server ranges are available with long-term commitments (up to 5 years) via our sales team, giving you billing discounts of up to 30%.
Our teams are available to discuss the current market situation and delivery times, and support you in your future projects.