IPv4 market tension and adjustments
Over the past years, IPv4 exhaustion has become a reality. Prices continued to rise, reaching an average of $50 per IP in 2022. Through all of this, we've continued to provide IPv4 service at nearly no cost to you, so that you can focus on building appropriate and cost-effective infrastructures. However, now we need to adjust our pricing to reflect the current market situation.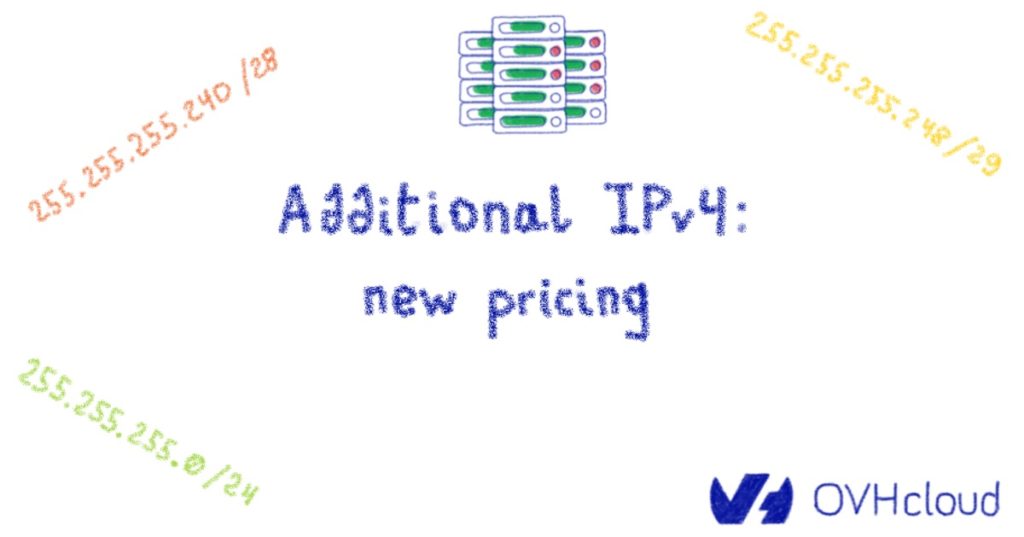 As transparency is always key in our approach with our customers, we'd like to share the following price adjustments.
Starting on October 6th, 2022, the price for new additional IPv4 subscriptions (also known as Failover IP) will be € 1.50 monthly per IP (exc. VAT), with no setup fee and no commitment.
For existing additional IPv4 subscriptions, and to follow the price of the new subscriptions, we will gradually integrate this new pricing for Additional IPs that have been subscribed to before October 6th, 2022:
Starting on December 1st, 2022, existing subscriptions will be charged at 0,50 € per month per IP (ex. VAT).
Starting on April 1st, 2023, existing subscriptions will be charged at 1,00 € per month per IP (ex. VAT).
Starting on September 1st, 2023, existing subscriptions will be charged at 1,50 € per month per IP (ex. VAT).
Our innovation commitment
For the past 20 years, OVHcloud has always delivered end-to-end services and innovative products by strongly investing in our infrastructure and R&D. Thanks to this approach, we're able to release brand new connectivity services: Bring Your Own IP service, Public Cloud Floating IPs, Load-Balancer-as-a-Service, IPv6 and more.
These services can help you build reliable, reversible, and powerful network architectures to support your own innovation.
OVHcloud is committed to continue serving our community of users by providing one of the most competitive IPv4 services on the market:
Our additional IPv4 enable multiple features including failover capacity, IP geolocation, reverse DNS
Ensuring quality IPs thanks to a strong investment in an unblack listing initiative.
Boosting productivity with an upcoming refresh of the IP management experience in the OVHcloud Control Panel.
Additional IPv4 alternatives
As an alternative, if you have your own IPv4 ranges, we recently launched the Bring Your Own IP service allowing customers to import their own IPv4 addresses to OVHcloud, to use as additional IPv4 addresses with fail-over capability. Read more about the BYOIP here.
All additional IPv4s (single and blocks, imported or not) can be managed from your OVHcloud Control Panel, in the Network >> Public IP Addresses section or using OVHcloud APIs for IPs.
We also offer IPv6 on most of our products (Bare Metal servers, Public Cloud Compute instances, VPS, Load Balancer…) and will continue growing the IPv6-ready products list. You can follow upcoming IPv6 improvements on our Infrastructure public roadmap on GitHub: https://github.com/ovh/infrastructure-roadmap/.
Our teams remain available to discuss the current market situation, your specific situation, and support you in your future projects. For any additional questions, feel free to contact us.
What products will be impacted?
Below you'll find the list of impacted services along with the new price for an additional single IPv4 and/or IP block:
Bare Metal servers (including Eco servers), Public Cloud projects and Load Balancer
| | | | |
| --- | --- | --- | --- |
| Service | RIR | Previous price | New price |
| additional single IPv4 /32 | ARIN/RIPE | € 2.00 setup | € 1.50 monthly |
| IP block (IPv4) /30 | ARIN/RIPE | € 8.00 setup | € 6.00 monthly |
| IP block (IPv4) /29 | ARIN/RIPE | € 16.00 setup | € 12.00 monthly |
| IP block (IPv4) /28 | ARIN/RIPE | € 32.00 setup | € 24.00 monthly |
| IP block (IPv4) /27 | ARIN/RIPE | € 64.00 setup | € 48.00 monthly |
| IP block (IPv4) /26 | ARIN/RIPE | € 128.00 setup | € 96.00 monthly |
| IP block (IPv4) /25 | ARIN/RIPE | € 256.00 setup | € 192.00 monthly |
| IP block (IPv4) /24 | ARIN/RIPE | € 512.00 setup | € 384.00 monthly |
VPS
| | | | |
| --- | --- | --- | --- |
| Service | RIR | Previous price | New price |
| additional single IPv4 /32 | ARIN/RIPE | € 2.00 setup | € 1.50 monthly |
SoYouStart servers (Essential and Game)
Service
RIR
Previous price
New price
additional single IPv4 /32
ARIN/RIPE
16 first IPv4: €1.00/IP setup and no monthly fee

Then €1.00 setup and €1.00 monthly per IP
€ 1.50 monthly
(regardless of the number of IP already subscribed)
vRack
| | | | |
| --- | --- | --- | --- |
| Service | RIR | Previous price | New price |
| IP block (IPv4) /30 | ARIN/RIPE | € 8.00 setup | € 6.00 monthly |
| IP block (IPv4) /29 | ARIN/RIPE | € 16.00 setup | € 12.00 monthly |
| IP block (IPv4) /28 | ARIN/RIPE | € 32.00 setup | € 24.00 monthly |
| IP block (IPv4) /27 | ARIN/RIPE | € 64.00 setup | € 48.00 monthly |
| IP block (IPv4) /26 | ARIN/RIPE | € 128.00 setup | € 96.00 monthly |
| IP block (IPv4) /25 | ARIN/RIPE | € 256.00 setup | € 192.00 monthly |
| IP block (IPv4) /24 | ARIN/RIPE | € 512.00 setup | € 384.00 monthly |
Hosted Private Cloud powered by VMware
| | | | |
| --- | --- | --- | --- |
| Service | RIR | Previous price | New price |
| IP block (IPv4) /28 | ARIN/RIPE | € 32.00 setup | € 24.00 monthly |
| IP block (IPv4) /27 | ARIN/RIPE | € 64.00 setup | € 48.00 monthly |
| IP block (IPv4) /26 | ARIN/RIPE | € 128.00 setup | € 96.00 monthly |
| IP block (IPv4) /25 | ARIN/RIPE | € 256.00 setup | € 192.00 monthly |
| IP block (IPv4) /24 | ARIN/RIPE | € 512.00 setup | € 384.00 monthly |