Since 2015, the OVHcloud Startup Program has helped startups and scaleups around the world to grow their businesses. We provide a concierge journey onto our cloud by providing up to €100k in free cloud credits and support. Additionally, the Startup Program provides members visibility while assuring full integration into the OVHcloud ecosystem.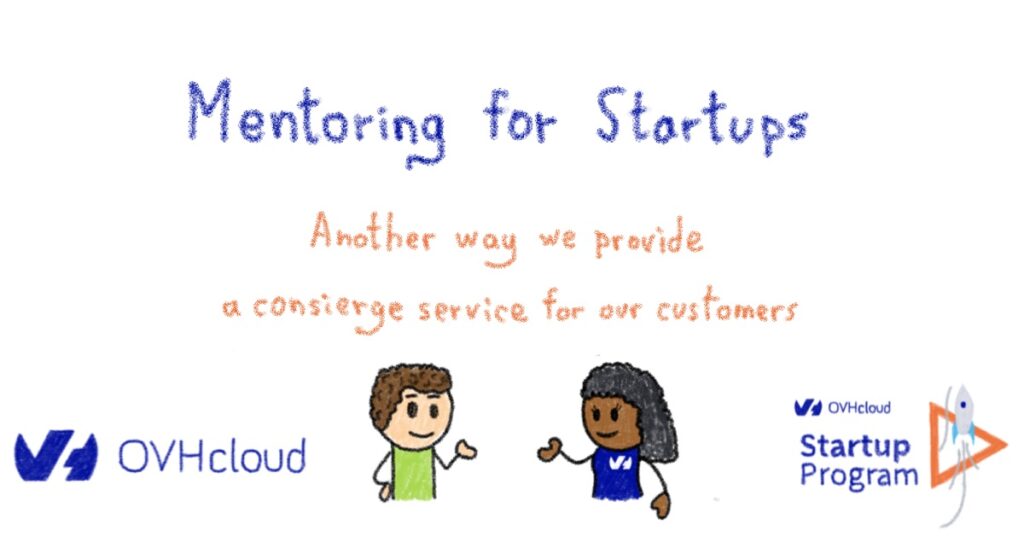 Cloud solutions are very important for a startup as it develops and scales because it is these solutions that will support the future development of the business. Cloud solutions should always reflect the needs of the business. Our technical support teams are at your service, making sure that this happens and at no cost to you.
However, entrepreneurs today are facing many challenges. When setting up a business, they often focus only on the essentials for getting it off the ground and do not always have the time, means, or skills to develop other aspects of their business. Sometimes, these overlooked aspects can be very useful and/or game changers.
For some time now, we have been receiving requests for help from startups on subjects other than cloud solutions. This is the context in which our Mentoring for Startups program was set up two years ago. Feedback from a recent survey of our members has revealed that this is still a need and that our Mentoring for Startups program is meeting that need.
Mentoring for Startups
"Mentoring for Startups helped us to understand how to define our social media marketing strategy. The challenge for us as a startup was the lack of a budget dedicated to promotion so our mentor gave us guidelines on how to promote our activity and brand in an organic way. This was very motivating for us and she helped us to understand that a good strategy is better than a budget. Our mentor also reunited our team together around a unique vision! Mentoring for Startups was for us a human experience too; an amazing human experience!" says Ana Robu, Business & Partnerships Manager at Notarify.
One participant provided this comment when asked what they really liked about Mentoring for Startups, "talking about deep topics we won't be able to deal with alone." Another commented, "our main infrastructure setup challenges were addressed." The benefits of having a mentor were captured in this comment from another participant, "we talked about topics and actions that never crossed my mind."
Let's first look at what mentoring is. Mentoring is usually a reciprocal and collaborative relationship that most often occurs between a senior mentor and junior mentee for the purpose of the mentee's growth, learning, and career development. Often the mentor and mentee are internal to an organization, and there is an emphasis on organisational goals, culture, career goals, advice on professional development, and work-life balance. Effective mentors often act as role models and sounding boards for their mentee and provide guidance to help them achieve their goals.
At OVHcloud, mentoring is above all a human relationship between two people who will share knowledge. Therefore, in Mentoring for Startups, we allow both the mentor and mentee to have input into who they will be matched with for the mentoring. Furthermore, as the notion of ecosystem is very important to OVHcloud, it was essential to make our own experts available to that ecosystem. So, we decided to offer startups mentoring support by OVHcloud employees, available worldwide. In this way, OVHcloud employees provide Startup Program members with their expertise and experience to help them develop their businesses.
The Startup Program's objective is to offer startups a choice of mentors who cover the different areas they would like to work on to accelerate their development: marketing, communication, social networks, business strategies, artificial intelligence, cloud solutions, CSR, human resources…
Each startup is provided with six hours of personalised support, for the topics they choose with their mentor, to be used over a period of 3 months. So far, two cohorts have been through Mentoring for Startups, supporting 39 startups. But this is just the start. Our ambition is to help even more startups, all over the world, which is why a third cohort is being prepared and will start in February 2023 with even more mentors with various expertise made available to our members.
"I commend those who have already gone through Mentoring for Startups for taking on a mentor. In my experience of working with startups I found that it was the more mature entrepreneur that saw the value in mentorship. The reality as an entrepreneur is that there are so many things that you don't know that it is real wisdom to have advisors to be able to tap into and get expert advice from", says Global Startup Program Leader, Philip Marais.
I want to participate
If you are a member of the OVHcloud Startup Program and want to participate in the next Mentoring for Startups cohort, contact us here.
If you are not a member of the OVHcloud Startup Program, then click on the image below and complete our short application to join the program. You can then apply to join the next cohort of Mentoring for Startups.