In our previous post we talked about how our water block technology evolved from 2003 to 2014. Today we continue on this theme, exploring this technology post 2015. We will focus on the current generation of water blocks, and give you a sneak peek of the improvements to come.
2015
As 2015 approached, our key objective was to design water blocks with an optimal performance of 120W and a water temperature of 30°C.
In order to simplify the process and reduce costs, we replaced the metal cover with an ABS plastic one.
Using plastic covers also allowed to build prototypes without metal fittings for the input and output pipes. Instead of fittings, the pipes were directly glued to the cover of the water block.
As with previous iterations, we also produced water blocks in smaller form factors. For instance, here you have a GPU water block:
3D printing water blocks
Using plastic covers for water blocks also opened the door to new prototyping process including 3D printing. We began to experiment with 3D printed ABS plastic water blocks, testing different types of covers.
3D printed cover variations:
CFD simulations
For the first time in OVHcloud's history, we used advanced CFD (Computational Fluid Dynamics) simulations. This allowed us to optimise the thermal hydraulics of the copper-base plates, and further improve water block performance.
Redundancy
It was during this time that we first used four-tier covers, adding redundancy and improving reliability.
2017
We are always on the lookout for highly-standardised approaches which apply to different geographical zones' and local customer needs. Alongside international expansion, we maintained an environmentally friendly approach, keeping ODP (Ozone Depleting Potential) and GWP (Global Warming Potential) levels very low across our datacentres.
By 2017 we were able to use water blocks with an optimal performance of 200W and a water temperature of 30°C and everything was fully-designed and manufactured internally at OVHcloud.
After the ABS plastic covers, it was time to test other plastics including polyamides.
Two examples of water blocks: one for standard CPUs, another for GPUs, with white polyamide covers:
A water block for high-density CPUs with a black polyamide plastic cover:
Experimenting with polyamide plastic also allowed us to quickly design and test different prototypes for enhanced CPU support and reduced cost.
2018-2019
At OVHcloud we have complete control from R&D to datacentre deployment. We can continuously innovate in short cycles which significantly reduces the amount of time between prototyping and large-scale deployment.
As a result, we are now more capable than ever of releasing new products to the market more quickly and for the best value. Many of our servers are delivered in 120 seconds with 100% service continuity, enhanced availability and optimised infrastructure performance.
Over the last two years we have begun to work with a new technology, using laser-welded metallic base-plates and covers. With this technology we can avoid screws and glue, and minimise the risk of leaks.
On these water blocks, piping is done entirely using copper-welded tubes.
As usual, we also build water blocks for specific form factors, like GPUs or high-density CPUs.
2020-…
At OVHcloud we continue to identify, transpose and adapt what works elsewhere to allow us to innovate and create our own solutions. We will follow disruption cycles in order to increase efficiency and reduce costs, always striving to create added value for our customers.
We are working on the next generation tier-4 water blocks, with our patented technology. Our tier-4 water blocks aren't a prototype anymore, but prod-ready, and we are working extensively with simulations and tests to improve performance.
We are aiming for water blocks with a performance of 400W with a water temperature of 30°C, with a fully-redundant water supply.
And besides water blocks?
At OVHcloud we hare proud of our R&D laboratories. They are fully-committed to pushing our competitive advantages on hardware, software and our custom-proven methods of server stress validation and testing. In our labs, we design and test cooling solutions, new server prototypes and innovative storage options.
In future posts we will share other aspects of our industrial innovation process, and look at how our customers benefit from the continuous improvement of service reliability and the price efficiency it generates.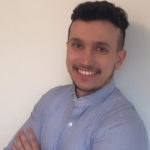 Ali Chehade is a Doctor of Engineering in Fluid Mechanics and Thermal Energy. With 12 years of experience in R&D/Engineering, he has worked in the innovation of DC cooling systems and industrial facilities. He has led projects dealing with their thermal performance and energy saving and has implemented techniques/strategies to make them environmentally friendly. Within OVHcloud Ali, as head of R&D-Cooling for 7 years and surrounded by a dozen of engineers, promotes and coordinates the development of solutions to improve the construction and energy performance of DCs.
https://www.linkedin.com/in/ali-chehade