Explaining my role as a Chief Resilience Officer often means explaining what resilience is at OVHcloud, why it's a core topic for the company, and how we plan to do it over the next few years. This is the pedagogy exercise that I suggest you carry out through this blog post.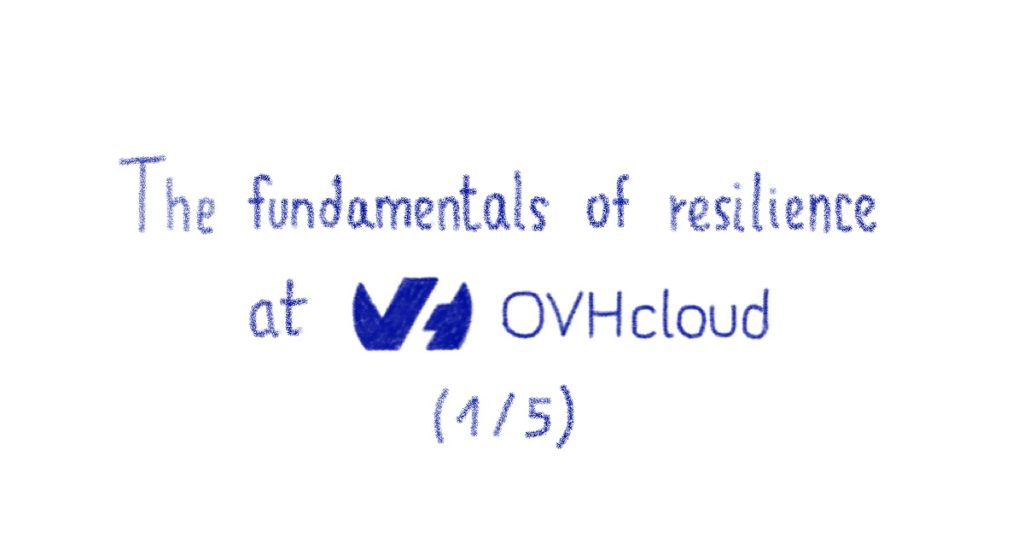 To be Chief Resilience Officer is to ensure that we never stop innovating, questioning and moving forward – it involves developing, improving standards and continuing to build the unique OVHcloud model, in order to offer our customers the most demanding service level.
First, there are requirements
To be a Chief Resilience Officer, you need to know how to build over the short, medium and long term. You also need to know how to adapt, react quickly, anticipate and plan ahead. The majority of resilience missions fit into the company's five-year plan. So it's not a question of doing everything right now, but of ensuring that every step is taken in time for us to reach the right destination at the right time. Our destination ans our ambition are clear: raise protection/prevention standards and set new standards for our business. Now more than ever, our goal is to be even closer to our customers, and to support them – effectively and on a daily basis – in developing their business by guaranteeing service continuity.
To be a Chief Resilience Officer, you will help reinforce what makes OVHcloud valuable: from infrastructure and solutions, to the network or to the people in our organisation. The physical security of our teams and the continuity of our customers' activity have always been and will remain our main concerns. We ensure that we can raise the standards for protection and prevention in our existing datacenters meet industry or international benchmarks, and if necessary, go even further with the goal of being "hyper" resilience. Numerous physical security measures were already in place to limit the impact of power, network or other major events (on all our redundant network sites, redundant power supply, fire plan). We want to increase their resilience, particularly by making automatic shutdowns more widespread and systematic across all of our websites. We are doing this by rethinking urbanisation in order to limit the impact of an incident, by managing all of the risks on servers and services, and by reinforcing compartmentalisation and fire resistance. Physical security will also be strengthened.
Becoming highly resilient
When we build new datacenters, we are inspired by the best practical cases, and rank ourselves as the market benchmark in terms of protection standard. Our datacenters in the pipeline, and datacenters under construction, will demonstrate this. We will have the opportunity to tell you more in a few months.
Becoming highly resilient also means continuing to raise our demand for solutions.
In the short term, this means both ensuring that our customers have a good level of knowledge of the backup and Disaster Recovery Plan (DRP) offers offered as part of our service catalogue (for example, the free 500 GB backup space available on bare-metal ranges, backup options for VPS and backup and DRP solutions on the market) and connecting our customers to our ecosystem partners who can support them in their disaster recovery plans.
In the medium term, we are developing new services.
We want to build new solutions and partnerships to offer our customers one of the most developed backup and DRP portfolios on the market. At the same time, we will build 4 datacentres that can serve as technical backups for OVHcloud solutions, which will enable us to restore our customers' services (from the technical backups made for our services to work) in the event of a total loss of business (a situation that our approach to high resilience on infrastructure and network aims to avoid). We are currently acquiring the land and we will be able to inform you in the coming months about the progress of the work.
For applications that require even greater resilience, we will ensure we can offer our customers an instant redundancy service – by creating regions in 3 datacentres, all in close proximity. The principle is simple: a permanent copy will ensure business continuity. The first region to have such an infrastructure would be Paris.
In parallel with the shared measures, we undertook the project to certify "ISO 22301" our active business continuity plans. Recognition based on an unquestionable international standard will provide even more transparency and understanding of OVH's resilience processes.
What's next
On the coming months, I will focus with you on four specific topics in other blogposts, detailing the OVHcloud strategy, ambitions and calendar:
Hyper-resilience @OVHcloud: physical security and business continuity
The @OVHcloud back-ups – a reminder of existing solutions and the roles of the DC back-up
AZ – 2 letters for triple resilience: Availability Zone
Network @OVHcloud