Players in the cloud industry are joining forces to reach climate neutrality by signing a Climate Neutral Datacenter Pact. This first-of-a-kind pact is the industry's contribution to the 'European Green Deal' – a set of green policies initiated by the European Commission.
Where does this pact come from?
The European Green Deal recently announced aims to make Europe the world's first climate neutral continent by 2050. In order to achieve this, the cloud industry must play its part. OVHcloud must therefore lead by example and enable players from other industries who rely on OVHcloud services, as well as its competitors services. This way, we can ensure a faster green transformation.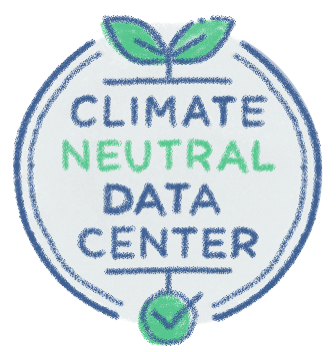 We fully support and contribute to the CISPE approach (Cloud Infrastructure Services Providers of Europe). CISPE is an organisation chaired by OVHcloud, which gathers 30 cloud infrastructure services providers operating in Europe. A "Green Cloud Task Force" was set up in December 2019 to discuss how to make this possible and define what Climate Neutrality means for our industry.
We agreed to reach Climate Neutrality for the cloud infrastructure industry by 2030. Subsequently, the European Digital Strategy, published in February 2020, confirmed that this goal was adequate for the datacenter industry.
And thus, today, we have the Climate Neutral Datacenter Pact.
How was it built?
Beginning in 2020, CISPE engaged with the European Commission in a series of workshops. The aim was to discuss a common approach and define what "Climate Neutrality" means for cloud infrastructure services. Good cooperation between industry and policy makers is essential to ensure that such general interests policy goals are met properly. It was especially important to define clear and measurable goals for 2030, including clear milestones in 2025 to ensure rapid progress for the industry. It was also important to make it accessible to European SMEs, without burdening them too much. With energy efficiency, for example, we agreed to use the PUE (Power usage efficiency) metric, which is widely adopted by the industry. We also agreed to work together on defining a new set of metrics to drive efficiency even further
It was also important to cover the datacenter industry at large, including, for example, delivery models like colocation. CISPE joined forces with EUDCA (European Data Centre Association) to develop the agreement and cover all industry players. Many other trade associations and industry players across Europe joined the pact; including Germany (Eco), France (EuroCloud France, France Datacenter), Netherlands (Dutch Hosting Provider Association, ISPconnect, Dutch Data Center Association), Denmark (Danish Cloud Community), and Poland (Cloud28+, TechUK).
It is really refreshing to see the entire industry come together to tackle such an ambitious and important challenge.
What are the implications for the datacenters industry?
The voluntary engagements of the Climate Neutral Datacenter Pact serves 5 objectives: power efficiency (using less power to deliver the same data compute and storage), carbon free power, water efficiency (using less water for cooling of the same workloads), recycling and reuse of heat produced by datacenters.
The metrics defined may lead to operators having to adapt the design of datacenters by 2025, and having to retrofit existing ones by 2030. It will also ensure that power used will be 100% carbon free by 2030 (75% minimum in 2025), and ensure the reuse, repair or recycle of all server equipment. More detail can be found here (link to SRI doc).
Where does OVHcloud stand on sustainability?
By virtue of its integrated industrial business model, OVHcloud has an excellent track record on sustainability. We are obsessed with resource efficiency, not only for the sake of our environment but also to serve our business interests. This is why our platform leads on energy efficiency, water usage efficiency and carbon impact.
The engagements of the Pact have been designed to be accessible by all players, from the biggest to the smallest, and to ensure we have the greatest impact. For us, we'd like to be ahead and reach our commitments faster so we can progress onto our more far-reaching ambitions. For example, we expect to achieve 100% carbon-free energy use by 2025 (instead of 2030 in the pact), all of our recent datacenters are already reaching the PUE bar set for 2025 (1,3). This will also drive us to engage in additional initiatives. For instance, we believe that we need to engage with our ecosystem to see how we can help our users and customers reduce their own impact. There is so much we can do – but we need to act now!
Is this pact likely to set the standards beyond EU?
Climate change is a global problem and climate goals are not limited to Europe. Meeting the Paris Climate Agreement goals is key for all citizens across the globe. At OVHcloud, our environmental objectives are global. The same goes for many signatories of the Climate Neutral Datacentre Pact. This makes the initiative a perfect base from which to extend into more geographies and jurisdictions. It would not be the first, nor the last time the EU leads by example in the domain of climate change action.

Francois is Executive VP, Chief Industrial Officer at OVHcloud. In this role, Francois leads the technical infrastructure of OVHcloud from the servers assembly lines to the design , construction and operations of the datacenters globally. Francois joined the OVHcloud adventure 3 years ago in 2017 after 15 years of experience in developing global infrastructure for Telecom and Internet companies. Francois spent 13 years at Google, to lead the hypergrowth of this platform, early on with the extension of the global network , then mega datacenter sites, and eventually helping those to become 100 % renewable powered.Before that, for 2 years, Francois worked on the Orange group worldwide backbone