What is Anthos?
Anthos, developed by Google, is a hybrid, cloud-agnostic container environment and have a software product that enables enterprises to use container clusters instead of cloud virtual machines (VMs) to bridge gaps between legacy software and cloud hardware.
Having initially developed the open source container management system, Kubernetes, and building Anthos on top of a strong container-as-a-service platform should lead to a smooth migration path for legacy applications.
The multi-cloud platform gives customers the option to use cloud technology such as containers and Kubernetes clusters on existing internal hardware — since not all enterprises may want to abandon their existing infrastructure;
Anthos deployed OVHcloud
Anthos will also allow customers to manage workloads that run on third-party cloud services such as OVHcloud. This gives more freedom for users to run, deploy and manage cloud applications while positioning Anthos as a more neutral player. Potential customers are not therefore forced into only using Google's infrastructure but can be deployed on OVHcloud architecture.
In this way the operativity with OVHcloud become an important part of the solution because it could allow the industry to adopt Google Anthos in a protective European environment and under the European rules of the GDPR and consequently with no conflict with data sovereignty; giving the fact that the platform is fully hosted by OVHcloud Data Centre.
So, Anthos technology is operated, installed and managed on and by OVHcloud offering a dedicated sovereign Private cloud. Below is an overview of what the OVHcloud Managed contained platform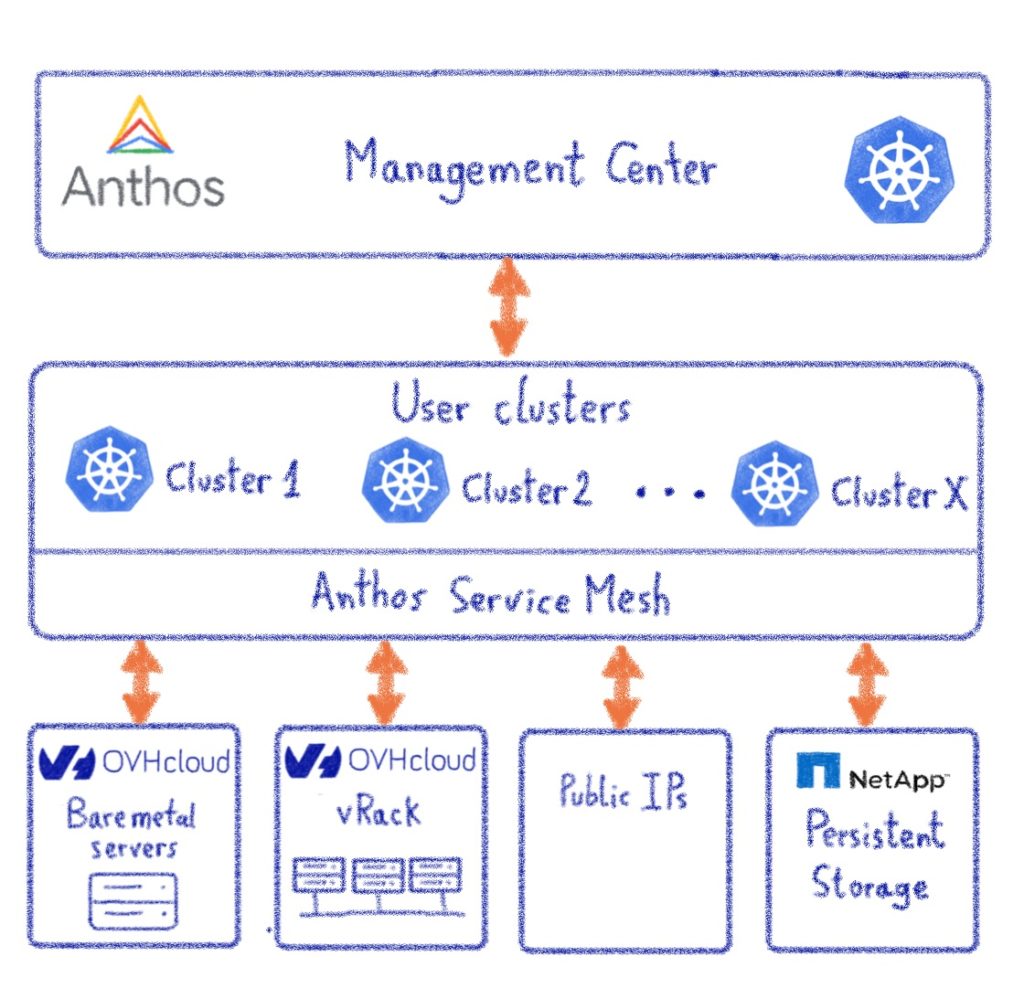 Benefits of the channel & Partners
With all that said, this solution could be attractive for the Indirect Channels that are in a phase to starting to migrate the end user's platform to the Cloud.
As a matter of fact, there are still a lot of legacy SW that could not be moved into the Cloud environment, therefore there will be a huge space for SI, VAR and MSPs that are now facing those projects at either corporate level as well as SMB.
Customers must rejuvenate their IT and consequently the infrastructure to be adopted to go over Cloud to gain efficiency and save the cost.
The Indirect channel of both OVHcloud and Google Anthos can act with the Customers by leveraging the legacy IT with the Multicloud environment offered by this very powerful partnership giving customers a choice where to deploy, manage and run their applications, on either their own hardware or in a cloud service.
If you are a customer interested in this solution and/or a Partner who wish to benefit from this offer for your customers, please contact your OVHcloud Partner Manager & OVhcloud Team.
To summarise, by using OVHCloud Sovereign Cloud, you will be able to :
Operate your Anthos clusters from a dedicated, highly available control plane, isolated from the Google Cloud platform
Enjoy Anthos features: including Anthos UI/dashboards; Google Kubernetes Engine; Google Anthos Service Mesh; Google Anthos Config Management; and Cloud logging/monitoring with a dedicated, local Prometheus/Grafana service
Leverage the 800+ Partner ecosystem to help you leverage Anthos Technology on OVHcloud.